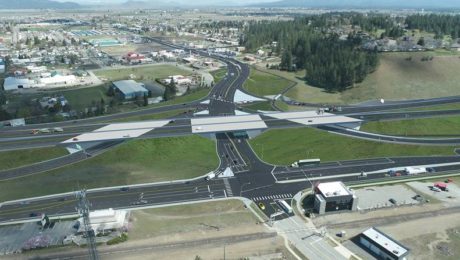 This article first appeared in the Spokane Business Journal on July 15th, 2021, (Updated 7/16/2021 with new project cost and timeline on the Interstate 90-state Route 41 project.) by Kevin Blocker.

Established in Portland, Oregon in 1976, the transportation civil engineering consulting company David Evans & Associates Inc. has secured a solid presence in the Inland Northwest.
Especially in Idaho.
Despite the fact the biggest share of the company's Inland Northwest employees are based in Spokane, it tends to secure more work in Idaho than in Eastern Washington.
"Idaho has a more robust program for consultants," says Russell Leahy, the company's transportation market leader for the Inland Northwest.
"(Washington state Department of Transportation) does a lot of work internally, so they don't give much work to consultants," Leahy says. The situation is similar for both the cities of Spokane and Spokane Valley, he adds.
"Idaho typically runs lean, and they rely more on consultants to help deliver their work," Leahy says. "We have a breadth of technical skills across the area and across the company that we can draw from. If we do a project here, we can pull people in from all over the company. We have the horsepower to deliver on tight time frames."
The company has 750 employees in Washington, Idaho, Oregon, Utah, California, Colorado, Nevada, Texas, Mississippi, South Carolina, and New York.
Roughly 35 employees are based in in the company's Spokane office with another 20 in the Coeur d'Alene office.
Due to COVID-19, however, a significant part of the company's Inland Northwest workforce is scattered across the region and working remotely, he says.
"We've got people in Clarkston (Washington), Lewiston (Idaho) … one in Riggins, Idaho," he says.
More recently, a significant portion of David Evans & Associates' Inland Northwest staff has increasingly turned its attention to a planned two-year, $57.2 million Idaho Transportation Department project for which the company is the consultant and design company.
Though he declines to provide specific revenue figures, Leahy says company revenues and projects have been on the rise in the last two to three years.
The project, for which construction will begin in 2023, involves the complete realignment of the Interstate 90-state Route 41 interchange in Post Falls.
"That is a major interchange upgrade to take a lot of the current goofiness out it," Leahy says in reference to the area's often inconsistent traffic flow. "But it's going to be a disruption to everyone driving on the interstate because there's going to be a lot of work on it."
When finished, a portion of state Route 41 just off the freeway will be relocated to the west of its current location.
"By moving it away from the hillside, that's going to allow us to move the westbound off ramp to prevent cars from backing up on the freeway the way they often do now," he says. "It will give more time and room for people to slow down coming off the freeway."
"The ultimate goal is to increase the operational efficiency of the interchange," Leahy says. "It's a really exciting project for us."
David Evans & Associates also is the consulting and design company for ITD's soon-to-be completed realignment of the state Route 53-U.S. 95 interchange just north of Coeur d'Alene and eight miles north of I-90.
In Spokane
But David Evans & Associates also secures a substantial amount of work in the Spokane area, Leahy says.
The civil engineering company currently is operating as the consultant to WSDOT for the current realignment project involving North Barker Road at East Trent Avenue in Spokane Valley, he says.
The project will place a roundabout at Barker and Trent while moving vehicle traffic below a BNSF Railway Co. line bridge to slow traffic while separating motorists from the rail line, he says.
"The separation of vehicular traffic from the railroad tracks is the big facet of that project," says Leahy, of WSDOT's desire to reduce keep motorists and trains away from each other as much as possible.
Leahy, a 15-year employee at the company, says most employees at the company have long-standing tenure.
"That's one of our strengths; we're a very stable company," he says.
Despite that, Leahy says it has been a challenge to add more staff to the company's Inland Northwest operations.
"Following the financial crisis of 2008, 2009, for two or three years, no one was hiring civil engineers," he says. "A lot of people went to other fields and careers. Even still, it's really hard to find good engineers right now."
The growth in the Boise area, however, did result in the hiring of an additional 20 civil engineers to the company to handle work on burgeoning projects there, Leahy says.
"We're hiring anybody we can right now, if they have skills and are good," he says.
Like this story?
You'll love the rest. Subscribe today, and you'll receive a year's subscription to the Journal of Business, unlimited access to this website, daily business news emails, and weekly industry-specific
e-newsletters. Click here for 50% off your first year.