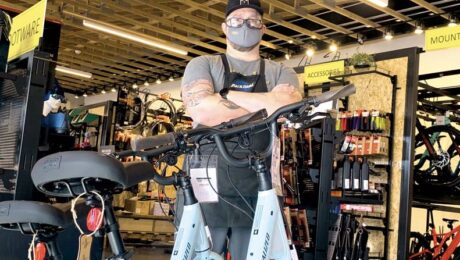 this article first appeared November 5 in the Spokane Journal of Business. Written by Kevin Blocker.
Extended holiday shopping season benefits some here
Despite the fact thousands of retail storefronts across the U.S. have struggled or gone away in recent years, some Spokane-based retailers say they could be on the verge of all-time holiday sales records in 2020.
As the pandemic's surge continues to strengthen heading into late fall, so too does consumer demand for some products as the holidays near.
At the General Store, general manager Mark McKee says he's fully prepared for both store locations to set holiday records this season. The General Store, located at 2424 N. Division, and The General Store Outpost, at 1330 N. Argonne in Spokane Valley, last year partnered with ACE Hardware to carry its brand of tools and hardware.
The day after the region's Oct. 23 snowstorm, the Division store set a single-day sales record, McKee says. Though he declines to disclose an actual dollar amount, he says Oct. 24's single-store revenues were 150% above the same date in 2019.
"This year, both stores are up 45% year to date," says McKee.

Online sales in 2020 have driven a substantial part of growth at both locations. Meanwhile, the North Division flagship store has gotten a steady facelift throughout the year.
"We've made the store more shoppable," McKee says. "And something new here for us is that we're launching a toy department on Nov. 14."
As for in-store shopping, McKee says checkout stands will be reconfigured in an effort to create an even more socially distanced experience.
The store recently began offering curbside delivery, and for those customers with medical mask exemptions, The General Store offers full face shields for customers to use, he says.
"We want to be able to maintain full safety for customers and employees," he says.
Chris White, the store manager at Wheel Sport cycle shop at 9501 N. Newport Highway, in North Spokane, says the company's four stores have seen a 35.7% increase in revenue this year over 2019.
And despite the fact this time of the year is considered off-season for riding bicycles, White says bikes have been a strong holiday gift traditionally.
Wheel Sport operates four stores across the region, and all share each other's inventory. When asked if he was concerned about the company's ability to fulfill holiday orders, White says, "Unfortunately, yes. Very few people anticipated this."
He advises people to shop early for Christmas gifts; the store only recently received a pair of bikes he had ordered in April.
"If you're going to wait to start shopping after Thanksgiving, then it's going to be too late," he asserts.
Mark Schneider, who owns and operates Rambleraven Gear Trader, an outdoor gear and clothing store at 3220 N. Division, says he's feeling optimistic about a strong consumer holiday shopping season.
Schneider says Rambleraven is currently "fully stocked" with outdoor gear.
Schneider says Rambleraven has picked off traffic from the closing of Mountain Gear, which occurred at the beginning of the year.
"It's hard to predict tomorrow, but one of the shining stars through the pandemic is the outdoor economic sector," Schneider says. "There's been a year-long, pent-up need for people to maintain their sanity."
The Washington, D.C.-based National Retail Federation launched its nationwide consumer education campaign encouraging people to shop earlier and safer due to the pandemic.
"We know this has been a year unlike any other," NRF President and CEO Matthew McShay told the Associated Press in a late October interview. "And we ought to expect that the holiday season will be just as different from normal holiday seasons as the rest of this year has been from normal years."
Despite the pandemic, the federation projects consumer spending on gifts will be on par with 2019, decreasing by only about $9 per person, while spending on other holiday items, such as decorations, will be up slightly.
"Expected spending remains significantly higher than the five-year average for both those categories. The holiday season is top of mind, with 42% of people saying they plan to start their holiday shopping by the end of October and another 41% in November," the retail federation says.
NRF estimates the average adult consumer will spend $650 on gifts this year, up from the four-year annual average of $624 from 2016 to 2019. Consumers are expected to spend $230 on nongift holiday items, such as decorations, compared with the $217 annual average from 2016 to 2019.
The only category the retail federation anticipates seeing a decrease in consumer spending is on "other nongift purchases," down to $117 per consumer compared with the 2016 to 2019 average of $145.
"One in five holiday shoppers say that they typically travel for the holidays but will stay home instead this year," according to the retail federation. "Over half of those who changed their holiday travel plans said they are likely to spend more on holiday items this year, specifically because they will not be traveling."
The retail federation says online sales have skyrocketed in 2020, and 60% of its survey respondents say they plan to purchase holiday items online.
Other top holiday shopping destinations for consumers include department stores, mentioned by 45% of respondent, discount stores (43%), and grocery stores or supermarkets (42%), NRF says.
The survey was conducted Oct. 1-Oct. 9 and sampled 7,660 total consumers, according to the retail federation.
Consumer zest for spending is still strong even though as of mid-August, a Business Insider report said retailers were expected to close more than 7,500 stores in 2020 following a record-high closing of more than 9,300 store closings in 2019.