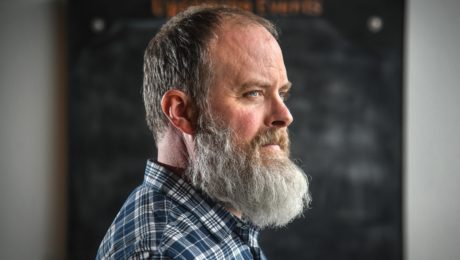 First published in the Spokesman Review, Sun., March 29, 2020.
By Amy Edelen.
Mark Pond received very few questions from visitors about starting a business at the reference desk when he began a career at the Spokane Public Library in 2006.
"I just sat at the downtown library at the reference desk waiting for business questions to come to me. It was complete radio silence," said Pond, the library's business reference librarian. "People didn't know what the library had to offer. I didn't know how to market what we had to offer, and the tools we had available weren't necessarily anything close to the toolbox we have now." Pond jumped into action and led an effort to provide resources to entrepreneurs at the Spokane Public Library. By 2016, the library's business offerings had expanded to include the Level Up Coworking Space at the downtown branch that provides meeting rooms, Macs with Adobe Creative software and access to a Bloomberg Terminal.
The Spokane Public Library is the second in the nation – the New York Public Library being other – with a Bloomberg Terminal, which provides access to financial news, analytics and charts.
In addition to providing one-on-one business consultations and conducting workshops on various business topics at local organizations, Pond maintains resources at spokanebusiness.org that help people research market information, find potential customers, develop business plans and take online job-training courses.
"One of the primary drivers in opening up the Level Up Coworking Space is the gig economy. It gives them tools and resources to figure out how to do their jobs," Pond said. "Having those kinds of ongoing education and learning opportunities for the Spokane workforce can be huge in terms of business retention and expansion."
Becoming a business research librarian
Pond, a Kettle Falls native, graduated with a master's degree in library and information science from the University of Washington in 2000. He worked as a reference assistant at the University of Washington library while attending college. After graduation, Pond was hired as a reference librarian for the Seattle Public Library, a position he held for more than six years.
Pond said he was drawn to library work because of the opportunity to help people with a range of questions and subjects.
"One of the things that appealed to me about the library world is – if you want – you can get super specialized, but sometimes just sitting at the reference desk taking whatever questions coming your way is really fascinating," he said.
Pond and wife, Maggie, contemplated a move back to Eastern Washington in 2006 to be closer to family and raise their two children. Within hours of discussing the potential move, Pond saw a job posting for a business research position at the Spokane Public Library.
Although Pond had some experience with business research while working at the Seattle Public Library, he was a little concerned at first that the position would be too specialized and might not be a good fit.
"But I love it," he said, adding it's a combination of specializing in business topics while also providing the opportunity to answer many different questions from a variety of entrepreneurs.
"At the same time, there's some common threads in the business research world – who you are selling to and what's your business model. So those things, (the library) can really help them," he said. "I enjoy being able to work with a whole span of different businesses around town. I find that really fascinating."
Growing resources
It took more than a decade for Pond to develop business resources for the downtown library branch. He said the idea to improve the offerings was planted when he met a man who created a device that assists with safety checks for tractor-trailers.
Pond shared with the man some of the library's business research tools and directories, and compiled a list of trucking companies on the West Coast within seconds.
"The guy said he paid $1,800 for the exact same list two days ago," Pond said. "So, I had a couple of interactions like that for the tools we have. They are in need and of value to the business community."
Technology has changed how people access information at the library. More people are gravitating toward digital access to books and reference materials, Pond said.
"I realized it will be a thing of the future and thought, 'I have to get outside of the library and meet businesses on their own terms,' " he said.
After Startup Spokane – a program of Greater Spokane Incorporated – launched in 2015, more entrepreneurs began seeking Pond's assistance for market research.
About half the businesses Pond works with are startups, and he recently assisted teams of students with business research for the upcoming Northwest Entrepreneur Competition.
"Even today, people don't realize how incredible the resources and options he's created for startups and small businesses," said Mark Gustafson, director of innovation and strategy at Avista Corp. and managing partner of Mind to Market LLC. "For a startup, there's no way they would have access to this rich of a system in their company."
Mind to Market LLC is a program by Avista that connects startups with experienced coaches to prepare them for early-stage investments.
Mind to Market participants find business resources – especially PitchBook – useful at the library, Gustafson said.
PitchBook
The Spokane Public Library, with Pond's help, became the first library in the country to secure a subscription to PitchBook, a venture capital and private equity database.
"Most mom-and-pop businesses in town aren't looking for venture capital funding, so it doesn't address them," Pond said. "But, for the companies that are looking for venture capital funding, it's really helpful to have the industry standard tool available to them when they come in and consult with me."
University of Washington's CoMotion Labs provided grant funds to cover a one-year subscription for PitchBook, totaling more than $18,500 per year.
Pond said the Spokane market and its location in Eastern Washington and proximity to Gonzaga, Whitworth and Washington State universities appealed to PitchBook.
"The universities don't have a subscription, but I can present it to MBA classes and when they go back to their hometowns, they are aware of PitchBook," Pond said.
Greater Spokane Incorporated, the Health Sciences & Services Authority of Spokane County and the Spokane Angel Alliance donated more than $13,000 toward a second-year subscription for PitchBook.
"It seems like the library is really well-positioned to be a crowdsourcing hub for access to more resources, even if they might be kind of industry specific, like PitchBook," Pond said.
A win for the economy
Although the Spokane Public Library's downtown branch is closed for renovations, Pond is continuing to accept online and phone consultations.
Pond said during the downtown branch closure, the Bloomberg Terminal will be moved to the Spokane Academic Library at the Riverpoint campus.
Prior to Gov. Jay Inslee's order to restrict gatherings because of the coronavirus pandemic, Pond was holding several meetings at local organizations such as small-business resource SCORE, a volunteer mentorship program, to help people with writing a business plan and other topics.
Pond aims to continue working to provide resources for Spokane businesses and entrepreneurs.
"We are spending $100,000 per year just for business research tools. There's zero startups anywhere in the nation that are going to spend $100,000 on market research," he said. "The library can step in and reduce that scope of risk for our local businesses. It's a win for them and it's a win for the Spokane economy."
Among the databases available through the library are:
Washington State Legal Forms, offering state and federal forms.
Statista, with market data, market research and market studies.
Reference USA, with market research, competitive analysis and sales lead generation.
Microsoft Imagine Academy, with online courses for Microsoft technology.
Demographics Now, offering demographics, consumer expenditures and interactive maps.