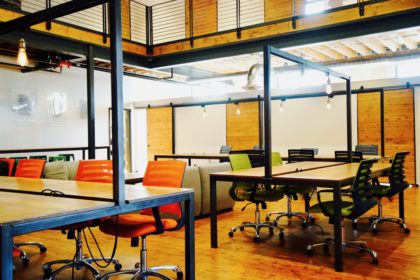 The national coworking culture is now fifteen years old. Successful coworking spaces know they need to be more than just secure wifi, free coffee and meeting rooms.
"Coworking spaces have to go above and beyond to stay competitive and thrive—developing niches spaces for certain businesses (legal, fashion and beauty, blockchain, film production), offering unique experiences such as coliving or childcare, plus getting creative by opening spaces in underutilized real estate like hotel business centers or within stores."

—Madison Maidment, COO of Coworker
One novel idea is an app that connects you with another local option: your neighbor's living room. Codi, a new startup launching soon in the Bay Area of California, turns apartments and houses into temporary, affordable coworking spaces during the day.
"I used to work from home, and it's very isolating. When you go to coffee shops, they can be very distracting. And there were no working options close by, and downtown coworking spaces are very expensive."

—Christelle Rohaut, CEO/founder of Codi
LiquidSpace is a national online network that connects people with spaces.  Users can search for meeting rooms, coworking space, private office suites, brainstorming-ready spaces, event spaces, and, dedicated desks. Searches can be customized to neighborhoods or specific properties to be the first to know of new space availability.
The list of coworking spaces in the Inland Northwest continues to grow, as rural communities recognize the need to attract flexible workforce and encourage a startup culture.
IDAHO CO-WORKING SPACES:
Bonners Ferry: The Plaza Downtown
Coeur d'Alene: The Innovation Den, SpaceShare CDA, Rockford Building
Hayden: Panhandle Area Council Business Incubator
Moscow: MosCoWork
Sandpoint: The Office Sandpoint
WASHINGTON CO-WORKING SPACES:
Liberty Lake: Liberty Lake Portal
Pullman: Crimson Commerce Club (C3)
Harrington: The Post & Office
Spokane: Niche Coworking, Fellow Coworking, Level Up, Regus, and StartUp Spokane