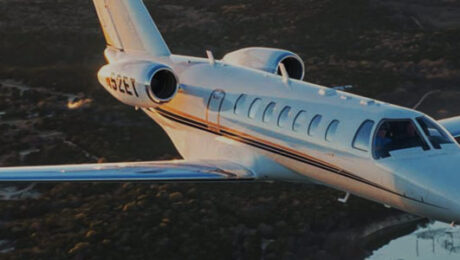 This article first appeared on October 8, 2020 in the Journal of Business. Written by Natasha Nellis.
Company to boost sales, engineering jobs this year
Tamarack Aerospace Group Inc. is continuing its rapid expansion, having nearly tripled its space at its Sandpoint headquarters.
The company has added 3,500 square feet of office space and an additional hangar to its 14,000 square feet of space at 2021 Industrial Drive, near the southern edge of the Sandpoint Airport. The addition of a third hangar, which company President Jacob Klinginsmith estimates is about 5,600 square feet, brings the company's total hangar space to roughly 23,000 square feet.
"The big-picture objective with the expansion is making room for R&D," he says. "As a technology company our intent and plan is to take our game changing technology and do it on other platforms."
The company manufactures and installs active winglets, which are designed to be attached to wingtips to boost fuel efficiency by increasing lift and reducing drag.
Currently, the winglets are designed to be installed on Cessna CitationJets, but Klinginsmith says Tamarack is exploring expanding the product to fit other types of aircraft, from the CitationJets up to Boeing airplanes.
With the addition of more research and development space, the company also plans to hire five sales and engineering employees, with the expectation of hiring an additional five engineers by year-end, according to a company press release.
Tamarack has 27 employees.
Klinginsmith declines to disclose sales figures, but says he expects this year's sales will be up compared with last year.

"The economy has really increased the demand for charter flights," he says. "People are looking for less contact with others, so our charter customer base is growing. People are looking at adding winglets to get more out of their aircraft."
He adds that the increasing popularity of charter flights has bolstered the company's sales.
Earlier this year, the company also established its first international outpost at the London-Oxford Airport. Tamarack partnered with Jet Maintenance International, an airline-based asset management company based in Alexandria, Virginia, to lease an 18,000-square-foot hangar on the airport property.