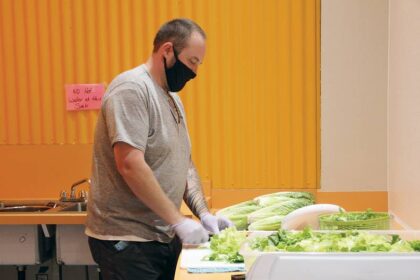 This article first appeared in the Spokane Journal of Business on August 13 2020. Written by Virginia Thomas.
An emerging restaurant model known as "ghost kitchens" is gaining popularity in some parts of the U.S. and could find a foothold in Spokane, industry experts say.
The concept appears to be becoming more appealing as COVID-19 pandemic-related restrictions continue to batter the restaurant industry.
Ghost kitchens refer to restaurants that operate exclusively on a takeout-and-delivery model, without in-house dining. There are three types: commissary kitchens, pop-up kitchens, and pods, according to digital food-tech publication The Spoon. Commissary kitchens are shared kitchen spaces owned and operated by a third party. Popups are areas within the main kitchen of a restaurant that are dedicated to fulfilling pickup and delivery orders and typically have a distinct menu and branding from that of the established restaurant. Pod kitchens operate within shipping containers and can be placed nearly anywhere.
Adam Hegsted, owner of the Liberty Lake-based Eat Good Group LLC., says the company had planned to open a ghost kitchen space in Spokane Valley, but it's holding off until the area's economy stabilizes.
Hegsted says Eat Good's partner, GVD Commercial Properties Inc., bought the former liquor store building at 5004 E. Sprague earlier this year. Hegsted planned for four companies to share the space: Incrediburger & Eggs, Taco Suave, Doughlicious Bakery, and either a fried chicken or healthy food restaurant.
Hegsted has experience dabbling in the ghost kitchen model. Eat Good Group's cafe, located in the Meadowwood Technology Campus, in Liberty Lake, also produced orders for Incrediburger Express, a takeout- and delivery-only version of Hegsted's hamburger restaurant. That has been suspended temporarily, partly due to the impacts of the pandemic, Hegsted says.
"The idea works great, as long as you can get enough delivery orders," Hegsted says. "There's a lot of savings as far as the buildout. And same with labor. You don't have to have as many front-of-the-house people doing customer service and helping guests. You just have a cook back there to create the food, and someone getting orders ready, taking orders, and cashing people out."
Adam Stinn, director of business solutions at Rosemont, Illinois-based national foodservice distributor US Foods Inc., says the idea was catching on in some U.S. cities before the pandemic struck, but it's become an important way for entrepreneurs to launch their food businesses, as well as a way for existing sit-down restaurants to add another revenue stream to compensate for lost revenue due to COVID-19-related occupancy restrictions.
"We have seen growing popularity and growing interest across all segments around ghost kitchens," says Stinn, whose company operates the Food Services of America warehouse in Spokane. "I've seen some numbers saying that in the next 10 years, this could be a trillion-dollar industry. There's definitely a lot of growth potential."
Ryan Wilcockson, owner of Spokane Salad Delivery LLC, says he chose to use a ghost kitchen model to start his salad delivery business in order to keep overhead low. Wilcockson, the sole employee of Spokane Salad Delivery, works out of the Kitchen Spokane commissary space in the Northtown Mall.
"They have all the supplies we need, all the fridge space, freezer space, and dry (ingredient) space," Wilcockson says. "It saves a lot, and I can afford to buy fancier products for the customers."
Kitchen Spokane is a nonprofit that offers commissary kitchens as incubators for small food businesses. Jayme Cozzetto, director of Kitchen Spokane, launched the first commissary kitchen under the Kitchen Spokane name in 2014. Since then, it's grown to include two locations in Spokane, two in Coeur' d'Alene, one in Ponderay, Idaho, and another in Vancouver, Washington. Most of its commissary kitchens are in malls.
Donita Humrich, kitchen manager for Kitchen Spokane, says malls are a good fit for commissary kitchens because the infrastructure already exists, and clients can access the space at all hours. Also, mall security keeps the space safe, and the mall itself is responsible for maintenance. With many malls struggling to fill spaces, it's a partnership that works for everyone, she says.
In the early days of the pandemic's presence in the U.S., Kitchen Spokane's revenue dropped by about 30%, Cozzetto says. Around late April, that changed.
"We started to see something we did not expect: a rise and growth in the industry," he says.
In the past few months, nine new businesses have signed up to use Kitchen Spokane's spaces. That brings the total number of businesses operating through Kitchen Spokane's locations to nearly 90.
Cozzetto says the organization is continuing to expand, with two new spaces in the Spokane Valley mall and one in Coeur d'Alene's Silverlake Mall expected to be established within the next two months. He claims that the COVID-19 pandemic has brought rental rates for commercial spaces, especially those located in malls, down significantly.
Kitchen Spokane charges clients $15 an hour to use its space and equipment, with dry and refrigerated storage space offered at a starting rate of $3 a day.
Cozzetto says many new clients had planned to launch elsewhere but have found their options severely limited by the pandemic.
"We're seeing people who maybe had an idea before that they were going to do, and they were going to (sell at) farmer's markets and public festivals," Cozzetto says. "What I'm seeing is that instead, they're focusing their efforts online. They're selling everything online, and they're doing remarkably well."
Stinn says that when Washington restaurants were forced to close their dining rooms in March, many eateries grappled with switching to takeout- and delivery-only models.
"While there was definitely revenue and continued sales there, it was clearly not what restaurants are used to, and there's also additional costs that come with those delivery and carryout mechanisms," Stinn says.
Some restaurants have embraced the ghost kitchen model, either by starting a second ghost kitchen restaurant that has a separate menu within their existing kitchen, or by adding a "digital franchise," Stinn says.
In the digital franchise option, for example, a local restaurant that makes its own Mexican-inspired food could add revenue by partnering with a national pizza franchise, enabling the franchise to use part of its kitchen to produce pizzas for delivery.
"I think the most attractive thing about the model is if there's consumer demand for a certain menu type, a lot of operators already know their fixed costs, whether it be a lease, cost of utilities, those kinds of things," he says.
The ghost kitchen model enables restaurant operators to continue to have a sales channel, even if it means providing a different menu altogether, Stinn says, adding that it can be done with relatively low startup costs.
"You're not starting an entirely new brick-and-mortar location," he says. "You're really just expanding a menu, which can be done with relatively low risk."
However, launching an unconventional restaurant through a ghost kitchen comes with its challenges. Chief among them, Hegsted says, is brand recognition.
"If you don't have an established name, it's difficult to get the marketing out there, because you don't have a physical space for people to connect with," he says.
Spokane Salad Delivery's Wilcockson says the technological aspects of running a delivery-only business have created an unforeseen obstacle.
"Not everyone is tech-savvy, so unfortunately for people who aren't used to it, using the internet or their cell phone makes it complicated," Wilcockson says.
Vying for time in the kitchen also can be challenging, he says. If another Kitchen Spokane client reserves the space for the time Wilcockson had intended to use it, he's in a tight spot.
Despite these hurdles, Wilcockson says he believes the ghost kitchen model will stick around.
"Not only in Spokane, but nationwide, worldwide. With the whole COVID situation, it's kind of going to have to go that way," he says. "I think it's going to be the way of the future, at least for a couple of years."
Hegsted likens opening a take-out or delivery restaurant through a ghost kitchen to launching a restaurant in an unpopular neighborhood.
"In the beginning, it may be a little more difficult to get people to latch onto the idea of coming to that neighborhood," he says. "It's the same with people figuring out the idea that it's delivery only. But once you get that clientele and build that loyalty, people are willing to get food delivered that they know is going to be good quality."