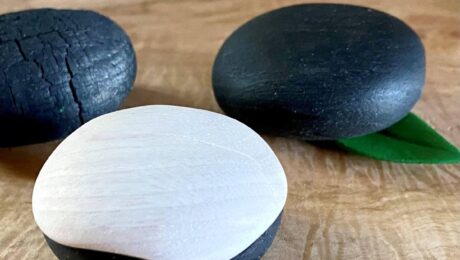 This article first appeared in the Lewiston Tribune on April 29, 2021 By Elaine Williams For Inland 360
Moscow newcomer one of several featured in Little Pink House Gallery's latest show
The aftermath of a fire that leveled most of the Whitman County town of Malden last fall dominates the artwork "Renewal," by Moscow artist Jill Kyong.
An image of blackened, leafless trees is repeated on three separate, rectangular, wood boxes created by Kyong, one of the artists featured in a show also named "Renewal" opening Saturday at Genesee's Little Pink House Gallery.
"I like the roof-peak effect that all the tree branches overhead made," Kyong said.
Kyong cut a house-shaped opening beneath the limbs in each box. She placed one charred ellipsoid of wood, fashioned to look like a stone, in each. One is black, symbolizing the ruin of the fire. Another is white on top of black, representing the snow that covered Malden in late fall. The third is black with a green leaf peeking out from the bottom, showing life after destruction.
Kyong is relatively new to Moscow, and this is the first time her art is being shown in the periodic exhibits painter Ellen Vieth holds in her Genesee gallery. "Renewal" is one of two Kyong pieces that will be on display.
"What distinguishes Jill's work is her ability to translate things she sees in nature into refined and graceful sculptural pieces," Vieth said. "She has a keen eye for simplicity."
Kyong's work often simultaneously explores hope and loss. She frequently encodes not-so-subtle messages into her wood "rocks."
In the work "Growth," she tackled the death of George Floyd at the hands of Minneapolis police officer Derek Chauvin, who was recently convicted of second-degree murder, third-degree murder and second-degree manslaughter.
In the piece, five small, green shadow boxes line the bottom edge of a large piece of gray wood. A black stone and a white stone sit together in the middle box. In the two boxes to the right are single black stones. In the two to the left are single white stones.
Inspiration for the piece hit when she was on a walk with her husband and spotted green tufts of grass sprouting in a line out of hard pavement.
The work will not be on display at the gallery as it was recently sold to a private buyer. As profound as the backstory is, Kyong didn't share it with the buyer and only recently posted it on social media because of her view that labels and context can prevent people from experiencing art on their own terms.
It doesn't matter to her if people purchase what she does because the colors match the paint on their walls or if they discern its deeper messages. Similarly, Kyong seeks out classes to learn new methods.
"If I have an idea, I try to figure out how to do it," she said. "I'm not just in one lane of how it could be done."
Kyong, 49, is a Korean-American who came to the United States after being adopted. The direction she is pursuing with her art unfolded over decades.
In college, she earned a Bachelor's of Fine Arts degree focused on iron casting. That perspective still informs what she does in a number of ways, she said. Part of her criteria for her 3D works is that they look good from all angles.
The turn she took toward wood happened during a 20-year hiatus from art while she was raising two children and doing bookkeeping for her sister's restaurants in Chicago, a job she still performs remotely. She built sturdy, custom furniture for the house she and her husband purchased in Little Rock, Ark.
After their children were grown, she returned to art in 2018, mostly using wood. She had started to establish herself in Arkansas where two galleries carried her work and she taught woodworking at the Arkansas Art Center. Then her husband, Jeff Kyong-McClain, a historian specializing in China, accepted a job as an instructor and administrator at the University of Idaho and the couple relocated.
Kyong's concepts frequently begin with photographs of nature that she refers to as she sketches ideas on an iPad using the program Procreate.
"I like it because I can move things around," she said.
Her garage is where she does finish work, and a large share of the cutting and carving happens at a private Moscow woodshop, where she works with artists she met at Artisans at the Dahmen Barn in Uniontown.
"There's all this work that goes on out there (at the woodshop) that's nationally and internationally known," she said.
In addition to saving her the expense of tools, the woodshop is also a place where she can get feedback and help from other artists.
As smoothly as the transition of moving to Idaho went, Kyong is still working through challenges, like finding galleries that are the right fit for her pieces. Her works typically cost more than $1,000 because of the large investment in time and materials. Each of her wooden stones, for example, took about 30 minutes to craft through a process involving multiple rounds of sanding.
The Art Spirit Gallery of Fine Art in Coeur d'Alene represents her and is planning a June exhibit that features Kyong and other Moscow-area wood artists.
"(I want) people to see that art made from wood is more than the hobby their grandfathers used to have," she said.
IF YOU GO
WHAT: "Renewal," contemporary art exhibit.
WHEN: 10 am. to 5 p.m. Saturday, Sunday and May 8.
WHERE: Little Pink House Gallery, 157 N. Elm St., Genesee.
OF NOTE: Face masks are required at the gallery.
The show includes new work by Ellen Vieth, Kendra Bulgren, Karen Filden, David Herbold, Stacy Isenbarger, Aaron Johnson, Jill Kyong, John Larkin, Lauren McCleary, Jean Arnold and Noah Schuerman. Arnold, a first-time exhibitor at the gallery, will show two works from her Malden series, both reflections on the 2020 Babb Road Fire. A portion of the sale proceeds from the works will be donated to the Whitman County United Way Fire Community Relief Fund.