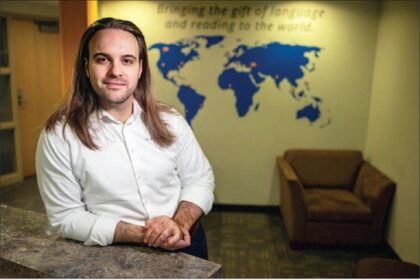 This article first appeared in the The Spokesman-Review |
Thursday, 18 June 2020  | by Jim Allen

Long before the era of COVID-19, Laura Kasbar was a Spokane mother who merely wanted to find a way to address her children's autism.
Almost by chance, she noticed that video lessons would help, particularly with a child who doctors had declared would never speak.
Nine years later, in 2011, her son Max was mainstreamed, and her Gemiini Systems, still based in Spokane, has become a worldwide leader in online distance learning for people with autism, Down syndrome, dyslexia, speech delay, stroke and other issues.
Since the novel coronavirus outbreak, Gemiini has seen "an avalanche" of interest as families and school districts seek virtual solutions to real-life challenges of learning from home, Kasbar said from her home in Southern California.
The company, with about 50 employees, is run by her son Nicholas out of the Holley- Mason Building in downtown Spokane. After an initial adjustment, Gemiini has adapted to a surge in business.
Gemiini has opened its certification program to professionals and has waived the $490 fee for certification.
Gemiini is also offering schools and clinics the use of its system at no cost as long as they agree to submit the cost of the program to Medicaid.
Gemiini has proven to be a valuable solution for special education administrators, who are struggling to navigate this crisis to continue to meet the needs of special needs students and families.
For many children, "this can be the only link to therapy," Kasbar said. "And now with COVID everyone is on that boat.
"Our team has been able to get to work immediately. Our subscription base has increased dramatically."
Gemiini – the unique spelling is Kasbar's tribute to her autistic twins, Max and Anastasia – was the product of Kasbar's yearslong search for a solution.
It was in 2001 that Kasbar recalled walking into a room in her Spokane home, saw all six of her children lined up in front of the television and "couldn't really tell which were the autistic ones."
At that time, conventional wisdom dictated the television should be turned off if autistic children were nearby. But that experience told Kasbar video was the answer.
She and her husband Brian had noticed that young Max wouldn't make eye contact with them but would interact with the television.
"I thought, 'I've got to get my mouth on the TV,' " Kasbar said.
That night, they made one-minute videos of a cup and Barney, the TV dinosaur.
"It was a close-up of my mouth saying the word 'Barney' next to the actual Barney and then saying the word 'cup' next to a cup. We did three sets in a row," Kasbar said.
That night, after watching several times from his highchair while eating, Max made his biggest breakthrough.
Kasbar held up a cup and he said "cup," his first word – 3 years and 8 months of age.
During the next decade, and with the help of her oldest son, Nicolas – who also had been on the autism spectrum – Kasbar developed the video program.
In 2012, thanks to funding from the Spokane Angel Alliance and Inland Imaging, Gemiini was launched.
Backed by studies from four universities, Gemiini serves 30,000 clients in 40 countries.
Its use of discrete video modeling, which presents only a specific piece of audio information, was showed by a Portland State University study to be 300% more effective than standard video modeling.
Kasbar was so inspired by the success of her program that she shared her experiences in a book, "Embracing the Battle: Secrets of Victory from a Warrior Mom."
Closer to home, Gemiini has worked with former NFL star and Spokane native Mark Rypien to develop an application to address suicide prevention.
The goal, Rypien said last fall, is to connect circles of friends of persons at risk so they can better monitor their state of mind.
Lately, the main focus has been reaching children who have been isolated by COVID-19.
"It's been pretty easy," said Nicolas, who runs the Spokane headquarters. "After a few headaches, we've been able to keep going and helping people, and we've updated a lot of our instructions on Facebook Live to walk people through how our lessons work."
Jim Allen can be reached at (509) 459-5437 or by email at [email protected].