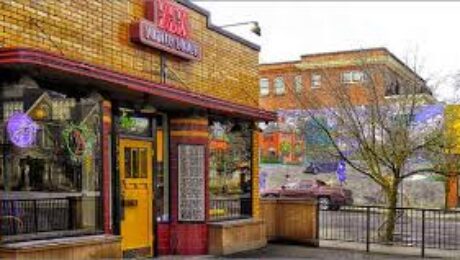 First published in the Spokesman Review, Sun., May 29, 2020. By Adam Shanks.
In an executive order issued Thursday, Mayor Nadine Woodward established the Restaurant and Retail Program, which eases the city's regulations on how and when a restaurant or retailer can expand onto a neighboring sidewalk or parking lot.
Woodward's executive action complements the efforts already taken by the Spokane City Council, which earlier this month waived application fees for businesses that want to set up on a sidewalk or curbside, and revised city law to reduce the lag time between application and permit approval.
"We felt it was really important to allow businesses that are opening in Phase 2 to increase their capacity. … If you know anything about those businesses, that profit margin is so slim, it is very difficult for many of them to operate at 50%," Woodward said.
As Spokane entered Phase 2 of Gov. Jay Inslee's Safe Start reopening plan last week, its restaurants were allowed to open at 50% capacity. In response to business owners' concerns that this would still hinder profitability, the city has scrambled to relax rules and allow restaurants to spread outside, increasing the number of customers they can serve at any one time and improving their odds of operating in the black.
The city's new program is also aimed at helping retail businesses, which face similar limits, including operating at 30% of normal capacity during Phase 2.
Under the program, clusters of restaurants and businesses can also apply to have a street closed by applying for a special events permit.
Outdoor seating will still be subject to the 6-foot social distancing rules between tables that apply to restaurants in Phase 2, but outdoor customers will not count toward their occupancy limit. The Elk Public House in Browne's Addition was the first to apply for a special events permit, which is under review by the city. If approved, it would close down the small section of South Cannon Street for use by The Elk and neighboring restaurants.
The city launched a new page on its website Thursday that provides details about the regulations.
In addition to sidewalk cafes – in which tables are set up on the sidewalk directly outside a restaurant – the city is also encouraging businesses to apply for a streatery or parklet permit. A streatery is an outdoor seating area that encompasses up to two parking spaces at the curbside in front of a restaurant or a nearby loading zone. A parklet is effectively the same thing, but open to the public, not just customers of a specific restaurant.
Under Woodward's order, the city will consider granting variances to the normal requirements of a sidewalk cafe or streatery, as long as they meet basic safety requirements and still conform to the requirements of Inslee's Safe Start program.
The order was swiftly and unanimously ratified by the Spokane City Council on Thursday. The program is set to sunset at the end of 2020, but could be rescinded earlier if it becomes unnecessary or extended if needed.
Earlier this month, the council also asked the Washington State Liquor and Cannabis Board to relax restrictions that force a restaurant's outdoor alcohol sales to directly connected to its premises. The temporary standard would allow restaurants that share space in a closed-down street to sell alcohol, the sales of which are a vital piece of many establishments' profitability.
The liquor board has already temporarily eased some rules during the stayhome order, including allowing the sale of premixed cocktails to go from licensed restaurants.
During the pandemic, it's allowing restaurants to apply for an extended floor plan that stretches outside, but "floor plan revisions must be adjacent and contiguous to a licensed premise," and "areas of responsibility must not be communal or shared with other licensees," according to the liquor board's guidance.
"They are eager to work with restaurants to make what adjustments they can," said Councilwoman Lori Kinnear, who has spearheaded the council's efforts to ease restrictions on restaurants and retailers.
CONTACT THE WRITER:
(509) 459-5136 [email protected]