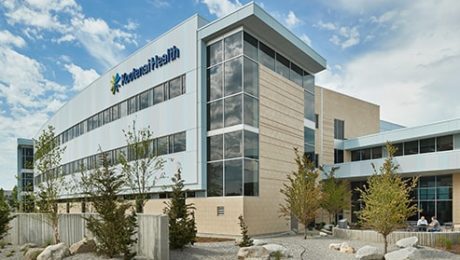 This article first appeared on April 9, 2019 in The Coeur d'Alene Press. By staff writer Brian Walker.
COEUR d'ALENE — Jon Ness invited two relatively new Kootenai Health employees to the podium on Monday to illustrate how health care has led the local economic development charge in recent years — and given young folks an opportunity to live here.
The Kootenai Health CEO was the keynote speaker on "Our Health Industry: The Heartbeat of New Jobs" during the Coeur d'Alene Area Economic Development Corporation's annual meeting attended by a record 409 people at The Coeur d'Alene Resort.
Sharing their job stories up front with Ness were Caiti Bobbitt, a public affairs strategist, and Kyle Guice, a security officer.
"Personally, it's allowed me to be there for my family in ways I never imagined," Bobbitt said of her job. "It's also allowed me to build relationships that will last a lifetime. Professionally, it's given me a profound sense of community that I wouldn't have gotten back in Phoenix."
Guice said his position allowed him to return to Coeur d'Alene, where he was raised.
"I love the outdoors and fishing," he said. "I've bounced around a bit with college basketball, so this has given me the perspective of how nice it is to be back in Coeur d'Alene."
Bobbitt and Guice represent a trend in which the health care industry has become a major player for job creation in recent years compared to when Ness arrived in 2010. Back then, Kootenai County's unemployment rate was 12 percent.
"There was very little construction, housing sales were low, the hospital wasn't really growing, yet we had an unbelievable community we live in," Ness said. "Our quality scores [at the hospital] were average. That is not a formula for growth."
But Kootenai Health, thanks to community growth and internal culture shifts, is now roaring.
The independent, community-owned hospital grew from 1,800 jobs in 2011 to 3,300 today.
"In some ways, we can't recruit fast enough," said Ness, adding that the company has 230 job openings.
Idaho is among 16 states in which health care is the largest employer.
Ness said the culture shift at Kootenai Health started mandatory two-hour training sessions with all employees and the crafting of a vision statement — one that saw Kootenai Health being recognized nationally for excellence.
Ness said many employees several years ago were surprised that Kootenai Health's ratings were at the bottom, compared to other hospitals in the region.
"That got their attention," he said. "Maybe we weren't as good as we thought we were."
Ness said the culture shift, which includes annual employee engagement surveys, has led to Kootenai Health being honored nationally by several organizations.
Ness said he believes Kootenai Health, which became an affiliate of the prestigious Rochester, Minn.-based Mayo Clinic in 2014, can continue to be an economic development force for years to come. It has a great example to follow in the Mayo Clinic, which hopes to create 50,000 new jobs over the next 25 years with investments from the public and private sectors and the health care organizations.
Ness said he believes a similar scenario can occur here, especially since this is a recreation paradise, the region's proximity to Canada, the population of the counties are comparable; and because of Rochester's somewhat remote location and the fact that North Idaho's winters aren't as harsh as Minnesota's.
"We have fantastic physical amenities, wonderful resources and this is the most hospitable community I have ever been to," Ness said. "Health care is growing, but what if we had a vision to do something like that?"
Gynii Gilliam, the economic development corporation's president, encouraged business leaders to explore ways to piggyback onto Kootenai Health's momentum.
"This is so doable; let's get to it," she said. "Let's help the health care sector make an even bigger impact. We can do this."
Idaho Gov. Brad Little said Kootenai Health's success of providing opportunities for young families is part of the transformation from the state's traditional roots of mining, timber and agriculture.
The average age of Kootenai Health employees is 41.
Little said North Idaho's proximity to Canada, recreation and clean air and water also opens economic development possibilities.
"We need to create an atmosphere where people want to stay in Idaho," Little said. "Strong families are what we are in Idaho and what people look for when they come here."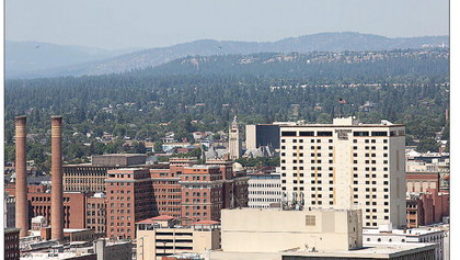 This article first appeared on March 20, 2019 in The Spokesman-Review. By staff writer Amy Edelen.
Affordability, opportunities drive placement among top 100 nationally
Spokane again has made a national ranking – this time as a top place to live for its affordability, job opportunities and recreational options. The Lilac City is ranked No. 41 out of 100 cities in a list of Top 100 Best Places to Live in 2019 by Livability. com, which evaluated more than 1,000 cities based on economics, housing, amenities, education and health care.
"The cities on this year's list represent the best of the best when it comes to affordability and opportunity," Livability.com Editor-in-Chief Winona Dimeo-Ediger said in a statement. "These 100 cities are not just fantastic places to live in terms of their amenities, education, health care and infrastructure, they are places where young people can build amazing careers and communities."
Spokane earned high marks for its parks, lakes, museums, and music and food scenes as well as accessibility to five universities and two medical schools, which boosted the city's education score.
Affordability and job opportunities were top answers among 1,000 millennials surveyed nationally to determine what matters most to them when deciding to relocate, according to Livability. com.
The website indicated all cities on the Top 100 Places to Live list have median home values below $250,000. The median home price in Spokane is $239,900, according to February data from the Spokane Association of Realtors.
Spokane has the most affordable housing of all large counties in state, according to the Washington Center for Real Estate Research at the University of Washington.
"Spokane is in very good position as far as affordability and sales price," said Rob Higgins, executive officer of the Spokane Association of Realtors.
Higgins said that while housing inventory is low in Spokane, it's expected to pick up in the next year, following a national trend of increased inventory in larger cities, such as Seattle.
Pullman and Richland ranked No. 86 and No. 30, respectively, on Livability.com's list, while Boise topped the list as the best place to live. Moscow made the list at No. 60.
Spokane has been featured on several national lists during the past year, including "Cities on the Rise" by National Geographic Traveler magazine and "Best Foodie Cities in America," by WalletHub.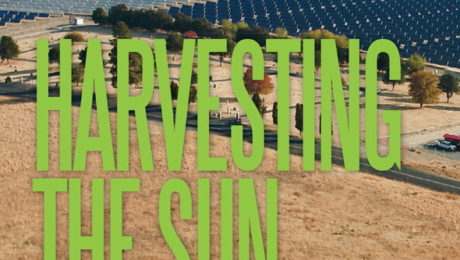 This article first appeared in the Columbia Basin Herald, 12 December 2018.
HARVESTING THE SUN
Lind boasts the largest solar array in the state
By EMRY DINMAN
LIND — Leaders from Adams County and the state at large flocked to the outskirts of the small town of Lind in October 2018 to commemorate the ribbon cutting of Washington's largest solar array, the Adams Nielson Solar Farm, by Governor Jay Inslee and Lind-Ritzville Middle School Associated Student Body President Raegan Snider.
"It is a glorious day in Adams County, because Adams County has understood solar power for a long, long time," Inslee said at the October ceremony. "It has long harvested photons through the power of photosynthesis to produce the best wheat in the world. This is just another generation of the development of solar power."
As far as the eye can see, dark blue panels are tilted to soak up the sun, perched on barren dirt in this small corner of the Eastern Columbia Basin. The 200-acre solar farm is capable of producing 28 megawatts of energy, enough electricity to power 4,000 homes. The same amount of energy would release nearly 40,604 tons of carbon dioxide if it were produced by traditional fossil fuel generators, according to figures provided by Avista.
Energy generated by the facility power will be available to commercial and business consumers through Avista's Solar Select Program. Businesses can purchase that power with an eight-year commitment, limited to 1.2 million kilowatt-hours per year at a rate of 5.3 cents per kilowatthour.
Inslee was joined by politicians from the region, including U.S. Rep. Dan Newhouse, R-WA, state House Minority Leader Rep. Mark Schoesler, Adams County Commissioner John Marshall, Lind Mayor Paula Bell and student leaders from Lind-Ritzville Middle School, which is located just over a ridge from the solar farm. Inslee referenced these students throughout his speech, and later asked Snider to join him in using a large pair of novelty scissors to cut the ribbon.
"These kids are going to be working on new technologies like this, building on this proud tradition of solar energy," Inslee said. "The future of these kids is symbolized by these solar panels."
Avista and Strata Solar jointly funded a $10,000 donation to the neighboring Lind-Ritzville Middle School for a digital reader board, delivering an oversized check to the Associated Student Body shortly before the ribbon-cutting.
Newhouse, the region's congressman, praised what is only the latest addition to the region's diversity of existing renewable energy sources, including nuclear, biomass, wind, hydro and now solar power.
"With further research and development, we can have the capacity to usher in a new era of energy production in the United States that provides a stable source of energy while also protecting our environment for generations to come,' Newhouse said.
State Sen. Mark Schoesler, R-Ritzville, credited a speedy approval process on the county's management practices and support from the Adams County Development Council.
Event speakers widely praised the efforts of Economic Development Director Stephen McFadden, who worked to get the facility located in the county and to make the permitting process as painless as possible. For his part, McFadden said much of the credit belonged to the development council as a whole, as well as various county agencies which worked in concert to move the project forward quickly.
Adams County will receive approximately $4 million over the next 20 years in property tax revenues from the array site, according to a press release, a groundswell of financial support for the relatively tiny community. "We have tremendous untapped potential here," McFadden said. "We're trying to grow and diversify the county's economy by bringing in new businesses and job creators. They generate critical new tax base to support all of the things that already exist here."