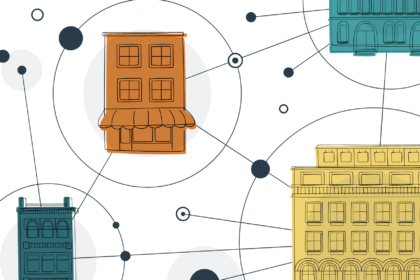 Excerpts from a report based on the Milken Institute's "Best-Performing Cities Index" and data on microbusinesses from the GoDaddy Venture Forward Initiative. Published October 2022. Authors are  Charlotte Kesteven, Abraham Song, PhD, and Caroline Choi.
The Milken Institute's Best-Performing Cities index compares economic activity across 400 large and small cities in the US annually. It ranks cities on measures including jobs growth, wage growth, high-tech GDP, high-tech industry activity, broadband access, and housing affordability.
The analysis divided the cities in the BPC large cities index into four segments: high rank versus low rank (2022) and high change versus low change (from 2021 to 2022). We selected several cities from each quadrant as case studies for further
examination. Cities were selected from those with the greatest change in each quadrant and to ensure a geographic spread across the country. We then cross-tabulated these cities by category with MAI to identify any key similarities and differences in groups. The top-level results for selected cities are shown below.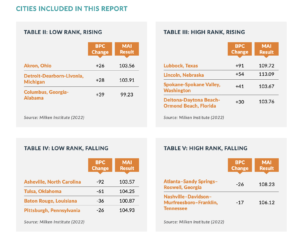 SPOKANE–SPOKANE VALLEY
Spokane scored well in one-year jobs growth, placing seventh among tier two cities in BPC's annual index, 34th in one-year high-tech GDP growth, 35th in five-year high-tech GDP growth, and 10th in broadband access.
Despite its composite score of 108.9 in the Microbusiness Activity Index, 7.1 points above the national average, Spokane's subindex engagement and participation scores were particularly low at 100.8 and 102.0, respectively, compared to its fellow quadrant cities. However, the city's subindex infrastructure score is 11.1 points above the national average, at 114.1. This demonstrates that the city has the physical and intellectual infrastructure needed to access and use the internet, implying that its already diversified economy can grow stronger with a push toward online microbusiness engagement.
Spokane is Washington's second-largest city and has seen 9.9 percent population growth over the past
decade.2 Between February 1, 2020, and January 7, 2022, Spokane trailed only Boise City, Idaho, for the metro with the fastest growth in job postings. 3 This growth may reflect the fact that Spokane's major industries in aerospace, health care, food processing, and clean energy production are all rebounding from pandemic–related interruptions.
Job postings may also be growing to meet service- sector demand from remote workers from bigger metros. Attracted by its quality of life, proximity to nature, and small-town environment, remote workers have flocked to Spokane. This movement, however, creates high housing demand, compounded by a lack of affordable housing options in the area: Affordability
is down more than 7 percent year-over-year, 4 and home-value growth has gone up by 12.9 percent year-over-year.5 Spokane has also seen an increase in tech startup activity. Rover, a Seattle-based pet-sitting company, recently set up a 70-person outpost in Spokane, and the University of Washington's CoMotion Labs launched an innovation hub in the area.6 Tech job
postings almost doubled from 2020 to 2021,7 part of a burgeoning tech industry in Spokane. Despite this, technology only accounts for 1.4 percent of Greater Spokane's economy, leaving tremendous room for future tech growth and economic diversification.8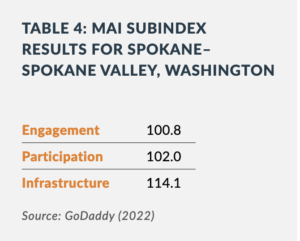 For full report, please click here: Best-Performing-Cities-and-Microbusiness-Activity