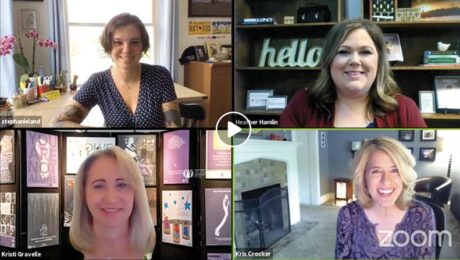 Article first appeared in Spokane Business Journal, July 30 2020. Written by Virginia Thomas
Socially distanced, socially conscious
Some nonprofits switch to longer fundraising cycles, spend less on overhead
Instead of canceling fundraising events, many Inland Northwest nonprofits have moved them into the digital realm.
Donor participation in charity events is lower, but some nonprofits say they're receiving nearly as many donations as in prior years from a smaller pool of donors, and nonprofits are saving money by forgoing costly in-person events in favor of low-cost online affairs.
Heather Hamlin, executive director of Women Helping Women Fund, says her staff saw the writing on the wall by mid-March. The organization had planned its 28th annual luncheon for May, but Hamlin and her staff knew well before then that in-person events wouldn't be possible for several months, at least.
"But the need in the community was bigger than ever," Hamlin says. "We saw that was going to continue to grow, so we decided to move to a virtual event."
Women Helping Women Fund decided to change to a longer, eight-week fundraising campaign in which table captains set goals for their groups, who raised money through networking. Keynote speaker Stephanie Land spoke to the organization through a Facebook Live event, which Hamlin says has garnered more than 13,000 views.
Hamlin says Women Helping Women Fund received about $170,000 in private donations in its eight-week campaign, as opposed to the $300,000 the annual luncheon typically generates. Hamlin says corporate donations go to underwriting the event, so Women Helping Women Fund receives every dollar donated by individual donors.
Lutheran Community Services Northwest's fundraiser was a different story. The annual 8 Lakes Leg Aches bike ride fundraiser, which typically results in about $75,000 in donations, raised about $80,000 in this year's "virtual ride."
The 22nd annual biking event had been scheduled for June 22 but was rescheduled for July 18. Development manager Christie McKee says the organization had thought an in-person event might be possible. By July, it was clear that wouldn't happen, and the organization decided to make 8 Lakes Leg Aches a virtual event.
Attendees were invited to complete one of three rides, with routes that were 30, 45, and 70 miles long, on the course of their choice, or even on a stationary bike, between July 11 and July 18. A finish-line event was held via Facebook Live on July 18.
McKee says ridership was down this year, to about 200 participants from nearly 600 riders in past years, but she says she was impressed by the support those 200 riders provided to the organization.
"We had one pledge rider who raised $9,900 who is 90 years old and rode 17 miles to celebrate his 90th birthday," McKee says. "We had a few others who were able to raise $10,000 each, and several that did $3,000 or more."
McKee says most riders are from outside of the Spokane area, which was part of the reason for encouraging participants to bike any course. But it also meant that overhead for the fundraiser was much lower.
"Usually, if we have David's Pizza at the event and we have 600 riders, our bill's going to be for 600 riders," McKee says. "We have roughly 160 riders who are here in this area. The others are all out of town, so they're not even going to go to David's Pizza."
McKee also ordered about half as many T-shirts as usual for the event, expecting that participation would be lower.
"We'll actually net more this year, because our expenses are going to be lower," McKee says.
Amy Knapton Vega, executive director at Vanessa Behan Crisis Nursery, said that when she was trying to decide how to pivot the organization's annual June benefit luncheon, she was told by some that the organization shouldn't expect to raise any money from events.
But Vega watched as other organizations held successful fundraising events, and she decided to forge ahead. She asked for help from longtime partner Hamilton Studios, which helped the organization put together a virtual benefit luncheon.
"They helped us navigate through what would work, how to tailor it, and they did a great job of doing their own set up, as far as social distancing," Vega says.
The online event drew 300 viewers, in comparison to the roughly 1,000 people who usually attend the luncheon. But Vega says the exceeded its goal of $170,000, bringing in a total of $172,000.
Going virtual saved Vanessa Behan Crisis Nursery thousands of dollars. Vega says the luncheon usually costs the organization about $40,000. This year, the crisis nursery spent less than $5,000 for its online event.
Don Hamilton, owner of Hamilton Studios, says he started adapting his video production and photography studio into a socially distanced, livestream-capable studio in March. A friend was scheduled to deliver a lecture to a college in Virginia in late March and decided to do so via Zoom. Hamilton thought his friend deserved better than a bland setting.
"It got me wondering — how could I use my cameras, lights, mics, and large studio to safely offer my friend a high-production-value presentation?" Hamilton says. "I started looking into the technology to adapt my motion picture production equipment to support a multicamera, livestreaming studio."
Hamilton asked the Spokane Regional MarCom Association if he could handle the nonprofit organization's annual Spark awards event to prove he could do a hybrid virtual event that combined livestreaming with pre-recorded segments.
"They were game, so we started by producing a glossy teaser announcing the event," Hamilton says. "We then had a number of members of the MarCom board come in, one at a time, to pre-record announcements of the winners."
Hamilton says the event was a success.
"The show moved seamlessly between pre-recorded packages and the live hosts reading a script from a large studio teleprompter," he says.
Since then, Hamilton Studios has handled five livestreaming events, including the Vanessa Behan luncheon and YWCA Spokane's "An Evening in Tuscany" fundraising event.
Social distancing at Hamilton Studio is easy, he says. His studio is located in the former auditorium of St. Joseph Catholic School, and he's divided the basketball court in half.
"The idea is that whatever we do in there, we get one half-court for the crew and one half-court for the talent, so that nobody's ever closer than 15 feet," Hamilton says.
Hamilton says no more than seven people are in the studio at any one time. When a livestreaming event is taking place, just three crew members run the show: Hamilton and his wife, Lorna, sit together at the master controls, where Lorna manages the teleprompter, and Hamilton manages four live cameras in addition to pre-recorded videos. About 25 feet away from master controls, video editor Hannah Sander becomes the live program manager during livestreaming events.
Hamilton says he believes it will be at least another two years before nonprofits can return safely to holding in-person events. In that time, he expects demand for hybrid livestreaming events will increase exponentially.
"I'm already lining up more things," Hamilton says.
Dana Morris Lee, chief philanthropy officer at YWCA Spokane, says the organization's livestreaming of its 14th annual Tuscany event surprised her in that it required so much more technical effort and volunteer participation beforehand, as compared to in-person events.
"We had to become virtual experts as quickly as possible," Morris Lee says. "You need to have a location to do this, and you need somebody who understands the technical restrictions around sound and video, and how to switch between different components of the program."
An Evening in Tuscany typically draws about 400 people, Morris Lee says. About 200 people watched the livestreamed event.
The fundraising portion of the event was stretched from one night to about six weeks. Morris Lee says the organization decided to do a longer fundraising campaign after watching and learning from other organizations' events.
"Creating a longer-term fundraising campaign around the event was a critical piece, because you just aren't going to get the same attendance online that you're going to get in person," Morris Lee says.
YWCA Spokane had hoped to raise $100,000. As of July 20, the fundraising campaign had received about $75,000. Now, Morris Lee says she hopes to reach $92,000 by Friday, July 31, when the campaign ends.
While an online event can provide a nonprofit with some funding, Vega says she still missed being in a roomful of people who have a long-standing relationship with the crisis nursery.
"It always feels like you're going to a kind of reunion," she says. "It's always so fun to get to visit and catch up on things, and we just didn't get that luxury this year. That was probably the hardest part of it."