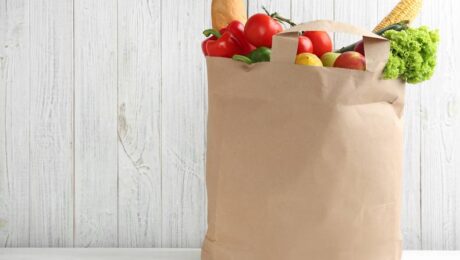 This article first appeared in the Journal of Business on October 22nd, 2020. . Written by Natasha Nellis
Spokane-based wholesale cooperative URM Stores Inc. has purchased the former Northwest Bedding complex on the West Plains to accommodate ongoing growth, as the organization expands west of the Cascade Mountains.
Located at 6102 S. Hayford Road, just west of the Amazon Fulfillment Center and north of West Plains Building Supply, the newly acquired property includes two warehouses with nearly 140,000 square feet of floor space—one with 117,900 square feet of space and the other with 16,000 square feet.
The structures will be used as additional staging and storage space, says Mike Winger, vice president of store development.
"It gives us some flexibility to better utilize the main URM facility," he says.
A commercial change-of-use application on file with Spokane County shows tenant improvements in both structures are valued at about $12.4 million. URM purchased the 13.8-acre property for $3.7 million in September, according to Spokane County Assessor's Office records.
The recently acquired Hayford Road structures previously operated as a boat manufacturer, Sun Runner, from 1977 to 1991 before transitioning into a Northwest Bedding manufacturing facility, says James Black III, Realtor with NAI Black who handled the transaction. The property has been vacant for roughly two years.
The expansion comes on the heels of a double-digit growth in revenues during the most recent fiscal year.
In its 2020 fiscal year ended July 31, the company experienced double-digit sales growth and closed out the year at a consolidated annual revenue of $1.3 billion, up 13% compared with 2019 revenue, Winger says.
Much of that growth is attributable to the COVID-19 pandemic, as more people cook at home and drive up sales at grocery stores, which in turn drives up sales at the wholesale cooperative, he says.
"The way the virus has impacted the restaurant trade has really changed people's eating habits, and a lot of our retailers have experienced significant sales growth because people are now going to the grocery store and buying a lot of that center-store grocery product," he contends.
Winger says it's likely the new facilities will operate with a limited staff, as the facility is intended to be used as a temporary dry food storage facility. However, he adds, the significant growth and demand the company has seen this year has led to over 80 new hires at the URM headquarters, and the company is looking to add 30 to 35 additional employees before year's end.
URM currently has over 670 employees.
In addition to eliminating periodic expenses related to off-site storage during the holiday seasons, the new facilities give URM expanded storage capabilities that Winger says will allow the company to better serve its growing client base in the large Pacific Northwest metropolitan areas.
"With the growth of our company, we've been pushing our trade area farther west," says Winger. "Now, we service grocers over in the Seattle and Portland area."
He adds that as more retailers are added to the company's roster, the demand for specialty products could increase. The new facility will help to accommodate those products that the company headquarters, at 7511 N. Freya, currently doesn't now.
Further, he says the grocery industry is continuously evolving, with new products being added every day, organic products growing in popularity and diversity, and ethnic foods growing in demand.
The new space will give the company the flexibility to accommodate those needs in the future as the company's retailer base diversifies, he contends.
During the holiday season, the distributor often rents additional space to store the candy and other holiday treats the member companies only stock seasonally, Winger explains, so having the additional space will cut that expense.
The West Plains facilities currently are undergoing tenant improvements to ensure that the buildings are up to date with code requirements, he says. The buildings also aren't connected to city water or sewer systems, and instead operate on a private well, so the company is inspecting them to ensure the life safety systems are operational, he adds.
Winger says improvements are slated to be completed by spring 2021.
"We have, for some time, been looking to see how we could expand our existing warehouse facility. We're somewhat limited because we have the railroad property to the west of us and we have streets on either side," he says of the company's headquarters on Freya Avenue.
Much of the planned work is cosmetic, adds Winger. Additionally, the structure's roof will be replaced, portions of the steel panel wall will be repaired, and the loading docks will need to be repaired or replaced to be properly sized for the company's trucks, he says.
URM's flagship distribution center on Freya Street is 680,000 square feet. According to the company's website, its distribution center receives over 400 inbound truckloads weekly and ships over 450 outbound truckloads a week.
Its headquarters were established in Spokane in 1926. Since, the company has steadily expanded its space, with its last addition occurring in 2014 when the company added 77,000 square feet to its perishable groceries space.
URM services members in Washington, Idaho, Montana, and Oregon. Its offerings include dry groceries, frozen food, ice cream, deli foods, dairy products, fresh meat, general merchandise, and health and beauty aids.
The 99-year-old cooperative is a member-owned food distributor to grocers that include Center Place Market, Family Foods, Harvest Foods, Huckleberry's Natural Market, Rosauers Supermarkets, Super 1 Foods, The Markets LLC, Town & Country Markets Inc., Yoke's Fresh Market, and Northwest Grocers.
The company also provides supplies to two URM Cash & Carry stores.
Next year URM Stores will celebrate its 100th year, says Winger.