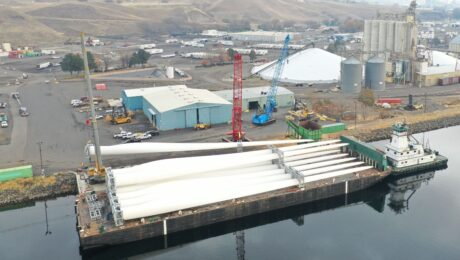 For the last few months, the Port of Lewiston has become an important transportation center for wind turbine components being barged up the Columbia and Snake rivers. After being barged from Port of Longview, in Washington, to the Port of Lewiston, the components will be trucked to Alberta, Canada.
Because the Port of Lewiston is at the end of the navigable Columbia Snake River System, it serves as a transportation corridor for commodities exported from Idaho or cargo imported to the interior of the U.S. and Canada.
The wind turbines are shipped in pieces to the Port's dock, which was expanded as part of a 2013 capital investment project made possible by federal and state grants, and then trucked north using U.S. Highway 95 to the Canadian border. The wind turbine components will be assembled to make 42 new wind turbines.
The Port of Lewiston is an advocate for renewable energy sources such as hydroelectric power as well as wind power. Wind turbines work to harness the power of the wind and turn it into energy. When the wind blows, the turbine's blades spin clockwise, capturing energy. This triggers the main shaft of the wind turbine, connected to a gearbox to spin. The gearbox sends that wind energy to a generator, converting it to electricity. Wind power generation helps to create a clean, renewable way to power our world.
This project is important to so many, especially during this COVID-19 time. The crew that is shipping these turbine components was mobilized to our area and is helping to fuel the local economy. The Port of Lewiston is a public organization serving the citizens of Nez Perce County as an economic development district, intermodal transportation center and facilitator of international trade.
"The success of this inland shipping route will foster future opportunities for the Port of Lewiston and the Valley as a whole," General Manager, David Doeringsfeld, commented.