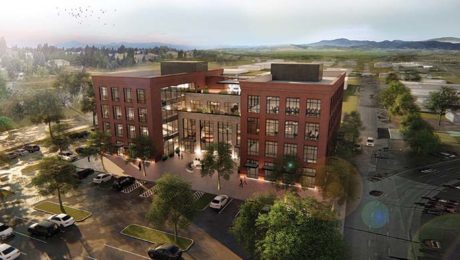 Article first published in Site Selection Magazine, September 2019. by RON STARNER.
When your company earns its keep by providing location data to site selectors, economic developers and others, it stands to reason that other people are going to pay close attention anytime your firm engages in a site search of its own.
That was exactly the case when Moscow, Idaho–based Emsi announced July 26 that it was expanding its footprint in Northern Idaho with a new headquarters. The campus will house more than 500 Emsi employees and give the firm room to grow.
"One of the first goals for Emsi was to employ 50 people earning over $50,000 because good jobs in our town drive prosperity for everyone," said Andrew Crapuchettes, CEO of Emsi. "Through striving to bless our customers, employees and shareholders, Emsi has enjoyed market success and is now privileged to be a part of Strada Education Network. With Strada's backing and the crucial support of many people in Idaho, we are grateful and excited to build this signature building in Moscow."
Emsi was launched in Moscow — 80 miles (130 km.) south of Spokane and 300 miles (480 km.) north of Boise — in 2000, as Economic Modeling Specialists International. When the firm moved to its current downtown facility in early 2014, it had 92 employees. Today, Emsi employs more than 200 people, with about 160 working in Moscow.
Emsi anticipates a move-in date of late 2020. The expansion will allow the firm to add more software developers, engineers, data scientists, economists, sales executives and other personnel. By remaining in Moscow, Emsi retains access to a talent pipeline coming out of the University of Idaho, Washington State University and New Saint Andrews College. More than 550 students with the skills required for Emsi's key occupations graduate each year from these schools.
Happiness is Hard to Quantify
Emsi CFO Timothy van den Broek says that talent and quality of life convinced the firm that the best place for the new headquarters was Moscow. "We've been very happy with Moscow as a place to operate for 20 years," he says. "It is our town. Our employees mostly live here, and their families live here. Within 10 miles, we have three colleges that all produce a good number of high-caliber graduates."
But it's not just about skills, says van den Broek.
"We hire people of great character," he adds. "Moscow is largely an immigrant community of transplants from across the nation and around the world. I am a family man. I have a wife and five kids. I could not imagine a better situation."
Tax reimbursement incentives, mostly employment-related incentives, were helpful in getting this deal done, he says, noting what he calls a "fantastic relationship" with the state, county and city. Quality of life is the icing on the cake, says the CFO, who is originally from England. "We have a vibrant restaurant scene in Moscow. The jazz festival brings a good amount of people to the region," he notes. "My commute is a 10-minute walk. If I drive, it's one minute."
The new space could accommodate a workforce of 1,000 people or more, he says. "If we do our job well and help our customers grow, we'll continue growing ourselves. We are in this for the long haul."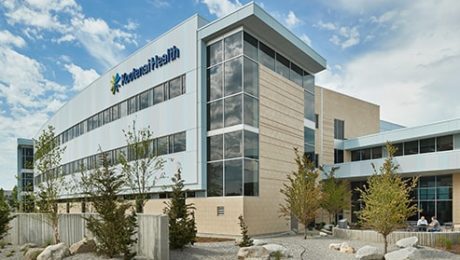 This article first appeared on April 9, 2019 in The Coeur d'Alene Press. By staff writer Brian Walker.
COEUR d'ALENE — Jon Ness invited two relatively new Kootenai Health employees to the podium on Monday to illustrate how health care has led the local economic development charge in recent years — and given young folks an opportunity to live here.
The Kootenai Health CEO was the keynote speaker on "Our Health Industry: The Heartbeat of New Jobs" during the Coeur d'Alene Area Economic Development Corporation's annual meeting attended by a record 409 people at The Coeur d'Alene Resort.
Sharing their job stories up front with Ness were Caiti Bobbitt, a public affairs strategist, and Kyle Guice, a security officer.
"Personally, it's allowed me to be there for my family in ways I never imagined," Bobbitt said of her job. "It's also allowed me to build relationships that will last a lifetime. Professionally, it's given me a profound sense of community that I wouldn't have gotten back in Phoenix."
Guice said his position allowed him to return to Coeur d'Alene, where he was raised.
"I love the outdoors and fishing," he said. "I've bounced around a bit with college basketball, so this has given me the perspective of how nice it is to be back in Coeur d'Alene."
Bobbitt and Guice represent a trend in which the health care industry has become a major player for job creation in recent years compared to when Ness arrived in 2010. Back then, Kootenai County's unemployment rate was 12 percent.
"There was very little construction, housing sales were low, the hospital wasn't really growing, yet we had an unbelievable community we live in," Ness said. "Our quality scores [at the hospital] were average. That is not a formula for growth."
But Kootenai Health, thanks to community growth and internal culture shifts, is now roaring.
The independent, community-owned hospital grew from 1,800 jobs in 2011 to 3,300 today.
"In some ways, we can't recruit fast enough," said Ness, adding that the company has 230 job openings.
Idaho is among 16 states in which health care is the largest employer.
Ness said the culture shift at Kootenai Health started mandatory two-hour training sessions with all employees and the crafting of a vision statement — one that saw Kootenai Health being recognized nationally for excellence.
Ness said many employees several years ago were surprised that Kootenai Health's ratings were at the bottom, compared to other hospitals in the region.
"That got their attention," he said. "Maybe we weren't as good as we thought we were."
Ness said the culture shift, which includes annual employee engagement surveys, has led to Kootenai Health being honored nationally by several organizations.
Ness said he believes Kootenai Health, which became an affiliate of the prestigious Rochester, Minn.-based Mayo Clinic in 2014, can continue to be an economic development force for years to come. It has a great example to follow in the Mayo Clinic, which hopes to create 50,000 new jobs over the next 25 years with investments from the public and private sectors and the health care organizations.
Ness said he believes a similar scenario can occur here, especially since this is a recreation paradise, the region's proximity to Canada, the population of the counties are comparable; and because of Rochester's somewhat remote location and the fact that North Idaho's winters aren't as harsh as Minnesota's.
"We have fantastic physical amenities, wonderful resources and this is the most hospitable community I have ever been to," Ness said. "Health care is growing, but what if we had a vision to do something like that?"
Gynii Gilliam, the economic development corporation's president, encouraged business leaders to explore ways to piggyback onto Kootenai Health's momentum.
"This is so doable; let's get to it," she said. "Let's help the health care sector make an even bigger impact. We can do this."
Idaho Gov. Brad Little said Kootenai Health's success of providing opportunities for young families is part of the transformation from the state's traditional roots of mining, timber and agriculture.
The average age of Kootenai Health employees is 41.
Little said North Idaho's proximity to Canada, recreation and clean air and water also opens economic development possibilities.
"We need to create an atmosphere where people want to stay in Idaho," Little said. "Strong families are what we are in Idaho and what people look for when they come here."