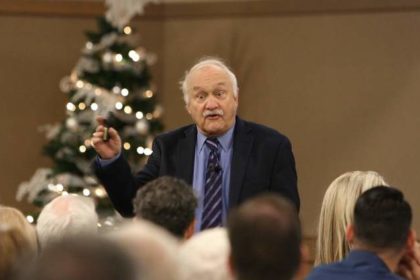 First appeared in The Coeur d'Alene Press, December 12, 2019 at 5:00 am | By MIKE PATRICK Staff Writer
COEUR d'ALENE — Same 'ol-same 'ol looks pretty sweet.
Speaking to a packed house of 215 business people and community leaders Wednesday, economist Dr. John Mitchell said there's little reason to expect the nation's unprecedented 126-month expansion to come to a screeching halt. What we saw in 2019 should look a lot like what we see in 2020, he said.
In his annual Coeur d'Alene Chamber of Commerce breakfast address at the Best Western Plus Coeur d'Alene Inn, the veteran fiscal forecaster predicted economic growth might slow a bit but continue heading in the right direction.
"The things we traditionally worry about at the moment are not happening," he said.
Sure, there's some uncertainty with impeachment proceedings, Mitchell acknowledged. Angst ebbs and flows with international trade and tariff talk, too.
It's always possible the market could see a big dip, or threats emerge to upend the tax system or the medical system. And of course, Mitchell had to raise the specter of a black swan event — some disaster that nobody sees until after it's already happened — no matter how unlikely.
"I worry about… people's willingness to take chances and invest," he conceded. "That's a threat."
But having covered the big scary stuff, Mitchell's forecast had a calming effect.
"The things that preceded many other recessions don't seem to be there," he said.
Nationally, Mitchell pointed to GDP slowing slightly next year but strong employment and low inflation propelling a steady course.
Close to home, Mitchell unwrapped a Christmas package of economic positivity.
He cited Idaho's 2.1 percent population growth as No. 1 in the nation, tied with Nevada.
Idaho's job growth for the year through October was a sturdy 2 percent, good for eighth in a nation where all 50 states showed job growth in 2019. Mitchell charted Kootenai County job growth for three years, from October 2016 through October 2019, and tallied 8.4 percent growth, with construction and leisure/hospitality leading the way.
The local housing picture is especially bright — if you're looking at the value of your property rather than your tax bill, anyway. According to Mitchell's research, the Coeur d'Alene metro area had the fourth highest housing appreciation rate in the country as of the year's third quarter. Chico, Calif., rising from the ashes of the Paradise Fire, led the way with a 14.25 percent appreciation rate. Boise (11.81) was second, followed by Idaho Falls (11.33) and Coeur d'Alene (10.85). Demonstrating the growth power of the Northwest, Spokane was fifth in the nation (9.36).
Growth is also visible throughout Kootenai County, as building permits attest. Mitchell said residential building permits are up 11.5 percent year over year.
"The forces that have been driving the county would seem to be intact," he said, pointing to confident employed consumers, an aging population in the higher cost areas, the many attributes of the region, and simply rising with the tide of continued national economic expansion.
He's got some numbers to back that all up. Looking at 2010 through 2018, Mitchell showed a positive population change in Kootenai County. Making babies was responsible for 3,822 new faces, while net migration brought in 19,111 during that period, he said. That added up to a 16.6 percent increase, well ahead of Idaho's strong 11.9 percent population growth.
Growth is evident not just in bodies but bank accounts. According to Mitchell's research, Kootenai County residents' personal income was up 7 percent last year. He noted that the big uptick isn't all from hard-working employees getting raises or better-paying jobs, either: dividends, interest, rents and transfer payments are boosting the bankroll of retirees.
"Old people save a lot," he said.
Worries over deficit spending haven't slowed the overall economy, and the dreaded "R" word has somehow been held at bay. Mitchell called "recession headlines very common in 2019," but said the warnings are often a reflection of political rather than economic interests.
"I always have in the back of my mind, 'What's the person's agenda?'" he said. "The recession just keeps getting pushed further and further out."
With some effort, the economist who has been making similar presentations for 47 years strained to see dark clouds, let alone black swans, on the 2020 horizon. However, all economic expansions end sometime.
"I don't think it's going to be in 2020," Mitchell said, "but it's out there somewhere."