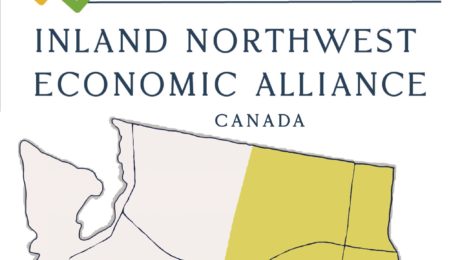 The following projects, initiatives, and economic developments are making news in eastern Washington and northern Idaho. This release is distributed by the Inland Northwest Economic Alliance on behalf of its regional partners.
*************
COEUR D'ALENE, Idaho — StanCraft Boat Co. is expanding from manufacturing watercraft to offering aviation services with the addition of a $15 million StanCraft Jet Center at Coeur d'Alene Airport-Pappy Boyington Field. Construction on the new 85,000-square-foot FBO began in August east of Empire Aerospace, and the project is expected to be completed by May 2020. Coeur d'Alene-based Eric Hedlund Design is the architecture firm that designed the structure, and Hayden-based Young Construction Group of Idaho Inc. is the contractor. The 40,000-square-foot Southfield Aviation building will be used as a maintenance facility after the new jet center is built. In addition to refitting jet interiors, StanCraft Jet Center will offer jet refueling, conference rooms, waiting and pilot areas, and a tenant improvement space for offices. Contact Robb Bloem, StanCraft President, for more information.
Dauntless Air, an aerial firefighting company, relocated its aircraft maintenance operations to the Coeur d'Alene airport this year. Dauntless protects people, land and property from the devastation of wildfires through advanced aerial fire suppression tactics in Minnesota, Washington, Alaska, Idaho, North Carolina, California and Oregon. Learn more about the company at www.Dauntlessair.com or contact Brett L'Esperance, Dauntless CEO.
PULLMAN, WA — Washington State University's Cosmic Crisp apple will hit the fruit stands on December 1, a project over 20 years in the making. Cosmic Crisp was developed specifically for Washington's climate and growing conditions. WSU researchers combined the disease-resistant Enterprise with the Honeycrisp, known for its crispness, juicy sweetness, and hint of tartness. There are 12 million trees planted in the state of Washington and this year 450,000 boxes of Cosmic Crisp apples will be available. Washington apple growers will have exclusive rights to the Cosmic Crisp for 10 years. Washington produces 65-75 percent of the nation's apples, yet this is the first variety that originated from the state. Contact Proprietary Variety Management for more information.
HAYDEN, Idaho — Roller coaster manufacturer, Rocky Mountain Construction (RMC), continues its Six Flags success with the innovative Jersey Devil Coaster at Six Flags Great Adventure in Jackson, New Jersey. Known as a single-rail coaster, riders in one-passenger cars will straddle a 15.5-inch-wide steel, monorail track and navigate a twisted course that will include multiple inversions, climbing 130 feet and hitting a top speed of 58 mph along 3.000 feet of monorail track. RMC has grown to 115 full-time employees and 5 manufacturing facilities, totaling more than 75,000 square feet. See USA Today's article for more.
DAVENPORT, WA – Washington Department of Commerce, USDA, and Washington State University Medical School hosted a daylong workshop with 100 community leaders and residents from Eastern Washington to address the broadband law approved this year by Washington state lawmakers. A new statewide broadband office will approve and distribute grant and loan funds to local governments, tribes, public, private and nonprofit entities working together to expand broadband. The program has $21.5 million available, including $14.5 million for loans and $7 million for grants. The state will prioritize funding to public-private partnerships, with a focus on underserved areas in the state. Contact Margie at Lincoln County EDC for more information.
<ol
MARIES, Idaho — City officials and housing developers, Troy Lozano, are projecting construction of new homes in Ragan's Addition to begin in early 2020. Lozano purchased 21 lots in the addition and plans to partner with Julian Construction to build single family homes. Updates can be found at greystonehill.com.
OTHELLO, WA — McCain Foods broke ground on a 170,000-square-foot expansion, a project that will cost $300 million and is scheduled for competition in 2021. The expansion to the frozen potato products line is estimated to bring about 180 new jobs to Othello and is expected to be the biggest manufacturer of frozen potato products in the world. Dale McCarthy, McCain Foods, said Othello's proximity to West Coast shipping makes it a crucial location for the company. "Othello is very strategic for us." Adams County officials are working with McCain Foods and the state to develop a recruitment process and support. They plan to conduct a countywide housing needs assessment to confirm housing needs and development solutions.  Email Adams County Economic Development Council for more info.
MOSCOW, Idaho — Northwest River Supplies (NRS) began operations from its new facility on South Blaine Street on November 5. The newly constructed 155,000-square-foot building includes a warehouse, customer service center, corporate offices and a 3,500-square-foot NRS flagship retail store. The $13.5 million project received a tax break from Latah County that exempts 75 percent of the increase in the site's value from property taxes for five years, ending in 2023. Read more here.
PULLMAN and COLFAX, Wash. — Two Inland Northwest businesses were recognized through the Washington Secretary of State's Corporations for Communities Award Program. Schweitzer Engineering Laboratories, of Pullman, was recognized for donating and raising funds for local charities and providing money for employees to donate to the charity of their choice. Bunyard Automotive, of Colfax, was honored for repairing vehicles at little to no cost for families in need. Both businesses were awarded the National Association of Secretaries of State Medallion for their efforts in their communities. The full press release is here.
OSBURN, Idaho — The city dedicated the newly completed Shoshone Fire District #1 facility, which was awarded a $500,000.00 block grant earlier this year. The new 10,000-square-foot facility is a significant fire, training, and emergency services upgrade for the region. Contact Silver Valley EDC for more information.
LEWISTON, Idaho — With a start-up $839,809 grant from the National Science Foundation, the Northwest Intermountain Manufacturing (NIMA) Association has created a pilot project to train high school students in fabrication and machining. In partnership with Lewis-Clark State College, the Clearwater Economic Development Association, the University of Idaho and 16 school districts, the program gives students a solid skill set and educational background in manufacturing so they can be ready to start work right after high school for local companies. The first group of students will complete the program in 2020. See Idaho Department of Labor article here.
LIBERTY LAKE, WA — In response to a gap in the city's flex office market, Liberty Lake Coworking LLC will open Jan. 2 at 23505 E. Appleway. The 4,600-square-foot space will have 11 private offices, six semi-private spaces, and open table space. The space will also feature booths for private calls, two semi-private meeting booths, a podcast and media room, access to high-speed fiber internet, and free parking. More details can be found here.
POST FALLS, Idaho — Construction on Idaho's fourth state veterans' home is expected to start next year. The 82,000 square foot project is to be built in Riverbend Commerce Park in Post Falls and will have 64 beds. The home will be built on 7.3 acres donated by the Jacklin Land Co. in Riverbend Commerce Park on Post Falls' west side. It is adjacent to BioPol Laboratory and Buck Knives. See the full article here.
SPOKANE, WA — The Toolbox manufacturing incubator expanded to 17,000 square feet in a recent move to Logan Neighborhood. Anchored in the space is Vestis, which manufactures specially designed commercial awnings and canopies. The Toolbox continues to serve as collaborative space where established companies and business mentors share expertise, ideas, tools, and equipment with manufacturing startup and entrepreneurs. The Toolbox is overseen by nonprofit Spokane Create. Read full article here.
On December 4, the Edward Lowe Foundation and Washington Department of Commerce will lead businesses through the basics of Thrive!, a new state program that helps second-stages businesses to increase revenue, streamline operations, and expand into new markets. Contact Susan Joseph Nielsen for more information about Thrive!
POST FALLS, Idaho— Northwest Specialty Hospital completed a $4.5 million addition to include an Endoscopy Center and two additional operating rooms. The 15,000-square-foot addition brings to eight the number of operating rooms for patient surgery. The Endoscopy Center, a 8,650-square-foot addition to the hospital, features two procedure rooms, one exam room and eight preoperative and post-anesthesia care unit bays. See company news release for more information.
************************
Inland Northwest Economic Alliance (INEA) is a consortium of fourteen economic development agencies representing fifteen counties in the North Idaho/Eastern Washington region. The collaborative effort is aimed at building economic growth through enhancing the brand recognition of the Inland Northwest and its communities and showcasing its business value.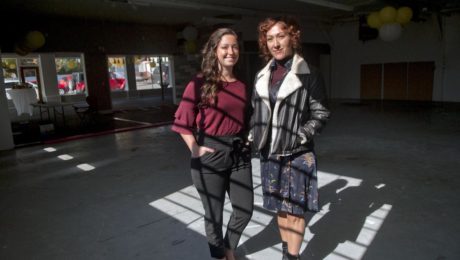 Article first appeared in The Spokesman Review, October 22 2019. By Amy Edelen, SR staff writer.
As Melinda Cadwallader and Cassidy Bones walk around a vacant building in downtown Coeur d'Alene, they see potential for a community space buzzing with activity.
Bones, Cadwallader and her daughter, Delia, aim to create The Hive, a coworking space geared toward women entrepreneurs – but inclusive to everybody – that fosters an environment of learning and collaboration.
"It's a coworking and learning annex where you can get outside of your home, get outside of your normal flow of life and have a space to be inspired, to connect with other people, to work on your business and also know that everyone there wants to help support you, too," Cadwallader said.
Bones and Cadwallader signed a lease for a 3,400-square-foot building at 405 E. Indiana Ave. because of its proximity to a wellness bar, day care center, parking and the energy of downtown Coeur d'Alene.
The Hive, slated to open in early 2020, will feature several coworking tables, a meeting and workshop area, photography corner, and a media room with equipment to develop podcasts.
"We have a lot of coffee shops here in town, but as student, as an entrepreneur and as someone who works digitally, to just go from coffee shop to coffee shop can be exhausting and distracting," Cadwallader said. "There's one coworking space here in town, but women want choices, we want options, we want new and interesting spaces to be and to work."
Cadwallader, who has a background in vocational education at beauty institutes in Denver and Coeur d'Alene, wants to provide space at The Hive for community members to teach classes and host events.
"That's what I got to do in vocational education. I was able to take people who were licensed professionals without a master's degree in teaching and teach them how to share their knowledge and information with students," she said. "When you see that growth in an individual – where they go from a professional to a teacher of that profession – that change affects someone's whole life."
The Hive is among many female-focused workspaces gaining traction nationwide as women entrepreneurs and freelancers look for an alternative to traditional offices, with resources and training to grow their businesses.
Female-focused coworking spaces are becoming more prevalent nationwide because they provide a place for women entrepreneurs to gain access to networks, experts and capital, said Marie Mayes, director for Washington State University's Center for Entrepreneurial Studies.
"Access to capital is a really critical thing to women entrepreneurs," she said. "These spaces will often host pitch sessions and pitch coaching sessions to help women prepare to raise capital and help understand capital markets."
Mayes added that she appreciates female-focused coworking spaces are inclusive to everyone, which reflects the diversity of skills and perspectives that startups often have among their teams.
Established female-focused workplace The Wing launched in New York in 2016. It has since expanded to eight locations nationwide and raised more than $117 million in funding from several investors, including SoulCycle founders Julie Rice and Elizabeth Cutler.
Seattle-based The Riveter, founded by CEO Amy Nelson in 2017, expanded its network of community coworking spaces built by women, for everyone, to five additional cities this year after securing $15 million in venture capital financing.
"Our expansion from one to 10 locations and thousands of members in just two years signals a significant market demand for workspaces, community, resources, and content that caters to the needs of women in work," Nelson said in an email.
Nelson founded The Riveter after a decadelong career as a corporate litigator in New York and Seattle.
"I had a successful career and, for many years, felt comfortable working in the male-dominated space that is corporate law. But, when I shared the news of my first pregnancy with my colleagues in 2014, I felt the perception and perspective of me in the workplace shift immediately," she said. "It didn't make sense to me to remain in a system where I couldn't make an equal dollar and where I knew mothers faced even more discrimination than women without children. So, I decided to start my own business, The Riveter – a modern-day union of working women and allies."
Nelson said The Riveter, which now serves more than 2,000 members, has been met with excitement from entrepreneurs and businesses nationwide.
In Coeur d'Alene, Bones said the community's response to The Hive has been positive, although some people are confused by the concept.
"It's just new," she said. "People don't quite understand it yet, but as we start talking and communicating about what this place is and what this place stands for, people have been very warm, receptive and supportive."
Bones, who owns Beyond Bones Chiropractic and the small business consulting firm Ascension Consulting with her husband, Ryan, is excited about plans for education space and workshops at The Hive.
"As I've created, grown and tried to help rehab businesses, I've found there is a really interesting culture around that. The traditional business education that you get in college is not complete," she said, adding marketing strategies are constantly changing. "So, I'm really excited to have current, very applicable things being taught."
Memberships at The Hive start at $59 a month, which includes a reduced $10 daily rate for coworking space, two hours of workshops and a 15% discount on additional workshops, event space and media/conference room reservations.
A higher-tier membership – at $129 a month – includes unlimited access to the coworking space, four hours of workshops, two complimentary media/conference room reservations and a 30% discount on additional workshops and event space.
Nonmembers can rent coworking space for $25 a day.
The Hive is launching a fundraising campaign next week to assist with initial startup costs through "iFundWomen," a crowdfunding platform for female entrepreneurs.
Cadwallader said The Hive's focus will be primarily on local issues and women to create a space for empowerment in the community.
"It's locally focused, and we see ourselves duplicating the space, but maybe in another smaller community, like Lewiston," she said. "We aren't looking to go to San Francisco. The Wing is there. The Riveter is there. But we have a heart for local community, small business communities, so being a hub for that in a small town is our appeal."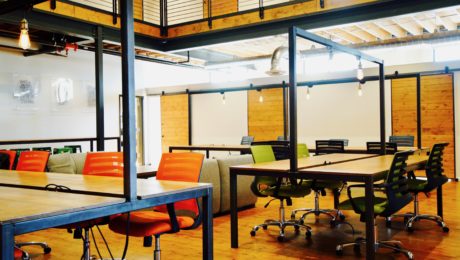 The national coworking culture is now fifteen years old. Successful coworking spaces know they need to be more than just secure wifi, free coffee and meeting rooms.
"Coworking spaces have to go above and beyond to stay competitive and thrive—developing niches spaces for certain businesses (legal, fashion and beauty, blockchain, film production), offering unique experiences such as coliving or childcare, plus getting creative by opening spaces in underutilized real estate like hotel business centers or within stores."

—Madison Maidment, COO of Coworker
One novel idea is an app that connects you with another local option: your neighbor's living room. Codi, a new startup launching soon in the Bay Area of California, turns apartments and houses into temporary, affordable coworking spaces during the day.
"I used to work from home, and it's very isolating. When you go to coffee shops, they can be very distracting. And there were no working options close by, and downtown coworking spaces are very expensive."

—Christelle Rohaut, CEO/founder of Codi
LiquidSpace is a national online network that connects people with spaces.  Users can search for meeting rooms, coworking space, private office suites, brainstorming-ready spaces, event spaces, and, dedicated desks. Searches can be customized to neighborhoods or specific properties to be the first to know of new space availability.
The list of coworking spaces in the Inland Northwest continues to grow, as rural communities recognize the need to attract flexible workforce and encourage a startup culture.
IDAHO CO-WORKING SPACES:
Bonners Ferry: The Plaza Downtown
Coeur d'Alene: The Innovation Den, SpaceShare CDA, Rockford Building
Hayden: Panhandle Area Council Business Incubator
Moscow: MosCoWork
Sandpoint: The Office Sandpoint
WASHINGTON CO-WORKING SPACES:
Liberty Lake: Liberty Lake Portal
Pullman: Crimson Commerce Club (C3)
Harrington: The Post & Office
Spokane: Niche Coworking, Fellow Coworking, Level Up, Regus, and StartUp Spokane