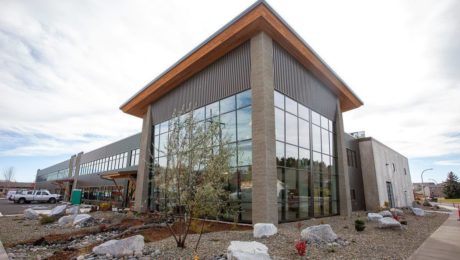 This article first appeared in the Moscow-Pullman Daily News on October 26, 2019.

Northwest River Supplies will operate from its newly built facility on South Blaine Street starting Nov. 5, according to an NRS news release distributed Friday.
The roughly 155,000-square-foot building includes a warehouse, customer service center and corporate offices. It will also be home to a 3,500-square-foot NRS flagship retail store, which will open Nov. 18, the release states.
NRS will be closed for business Friday through Nov. 4 as it moves into the building, a portion of which housed the former Tidyman's supermarket.
The manufacturer of paddlesports equipment and apparel makes the move after occupying its South Main Street location since 1982. NRS has twice expanded its South Main Street building, and in 2006, acquired the South Blaine Street property.
The company has also owned or leased several additional spaces in Moscow. The new facility provides increased space for inventory and personnel while allowing NRS to locate all business functions under one roof.
"A big part of our success at NRS comes from a culture of inclusion and shared responsibility," NRS Chief Financial Officer Tony Mangini said. "Having everyone working together in one building will encourage communication and collaboration throughout the business while supporting continued growth."
NRS was founded in 1972 by Bill Parks, a former business professor at the University of Idaho. In 2014, NRS became 100 percent employee-owned and employs approximately 110 people in Moscow.
"Being based on the Palouse has been key to our success over the years," Mangini said. "With two major universities in the area, we have access to top-tier talent. And the high quality of life makes people want to stay here and build careers."
Last year, the new NRS headquarters received the first economic development property tax exemption in Latah County.
"We are grateful for the support we've been given from Latah County, the city of Moscow and our community on the Palouse," Mangini said. "We look forward to creating a positive economic impact in our region for many years to come."