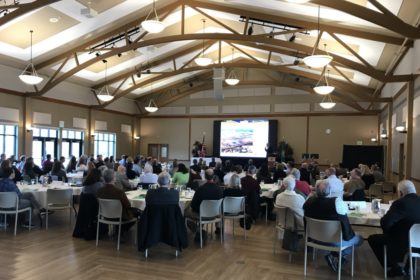 FOR IMMEDIATE RELEASE: May 24, 2019 (LIBERTY LAKE, Wash.)—Inland Northwest Partners announces their summer meeting to be held at Banyan's on the Ridge (Palouse Ridge Golf Course) in Pullman on June 7, 9:00 a.m.-2:30 p.m., with a continental breakfast beginning at 8:30 a.m. Lisa Brown, Director of Washington State Department of Commerce and Tom Kealey, Director of Idaho Department of Commerce, will share the keynote presentation titled, "State of the States: Trends Shaping the Economies of Washington and Idaho." Cost for INP members is $40, nonmembers is $60. To register, visit inwp.org/events.
The presentations of Directors Brown and Kealey will culminate a day of presentations under the theme of "Value-Added Agriculture: Cultivating New Jobs for Your Community".
"Throughout the Inland Northwest Region, it's exciting to see even more economic activity and job creation related to our strong agricultural sector from crop production, craft brewing, and agritourism.," says Paul Kimmell, Chairman of INP Board of Directors. "It's always great to showcase some of this success and continue to build on these opportunities."
Other presentations include Chanel Twealt, COO for the Idaho Department of Agriculture, who will discuss agriculture as a regional economic driver; Dr. Laura Lewis, from WSU Food Systems, who will discuss the craft brewing and distilling industry; and, Adams County Economic Development Director, Stephen McFadden, who will discuss renewable energy, food processing and the cannabis industry.
Inland Northwest Partners members meet quarterly to share common economic challenges and solutions within the eastern Washington and northern Idaho region. Topics include technology, financing community initiatives, forging regional partnerships, local business expansion and retention, and job recruitment. INP often partners with local chambers or state organizations for value-added training.
Banyans on the Ridge is located at the Palouse Ridge Golf Course, 1260 NE Palouse Ridge Dr. in Pullman. For more information about becoming a member of Inland Northwest Partners, visit inwp.org or email [email protected]. 
************************
Inland Northwest Partners (INP) is a non-profit organization focused on enhancing the long-term vitality of a two-state region through its core offering of educational meetings, programs and seminars.  More than 300 business and community leaders from eastern Washington and northern Idaho are members. INP is also part of a regional marketing effort known as the Inland Northwest Economic Alliance (INEA), a consortium of fourteen economic development agencies. To learn more, visit inwp.org.