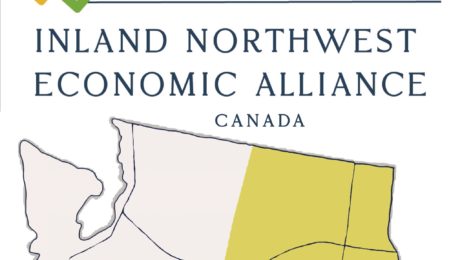 The following are projects, initiatives and economic developments are making news in eastern Washington and northern Idaho.

*************
SPOKANE, Wash. — Washington Department of Commerce has provided a $100,000 grant to support expansion and workforce training needs of SkyOne Aerospace. Founded in the Spokane Valley in 2015 with three employees, SkyOne Aerospace, specializes in customer-oriented repair and overhaul of instruments, avionics, electronics, mechanical units and hydraulic units of military aerospace aftermarket. SkyOne will purchase new equipment to meet expansion needs and hire additional skilled technicians with military aerospace experience. The company will retain 18 jobs and create 45 new jobs over the course of the next three years. Presently, 40 percent of SkyOne's workforce are veterans, and the company is committed to hiring more, mostly from Fairchild Airforce Base. Read more on the SkyOne website.
COEUR d'ALENE, Idaho — Idaho Central Credit Union, ranked 2nd by Forbes' 2020 Customer Satisfaction Survey, opened a branch in Coeur d'Alene at 1327 W. Appleway Avenue. This is Idaho Central's 38th location in Idaho. The 8,600-square-foot branch has a drive-through with three lanes, an ATM and a video booth in the corner for members to access our VideoChat services. See more about ICCU's Appleway Branch here.
PULLMAN, Wash. — With the recent successful completion of the $155M runway realignment project at the Pullman-Moscow Regional Airport (PUW), work recently began on the design and construction of a new terminal. In early August, the PUW Airport Board created a Terminal Advisory Committee to help gather community feedback and help shape the design of the $35 – 50M project. Committee members include community and university officials, key business leaders and other interest. Contact the PUW for more information.
MOSCOW, Idaho — Work continues on identifying and developing additional water supplies for the Palouse Region. Under the direction of the Palouse Basin Aquifer Committee (PBAC), an organization which includes the cities of Pullman, WA, and Moscow, ID, Latah and Whitman counties, University of Idaho, and Washington State University, a $150,000 contract was recently awarded to Alta Science and Engineering, Inc., of Moscow, ID. The study will focus on refinement of potential water supply alternatives as well as interim measure to help identify and develop additional water supplies within the Palouse Basin. Contact PBAC for more information.
SPOKANE VALLEY, Wash. — The Spokesman-Review has moved its printing operation to a new facility in Spokane Valley. It is now being printed on a press that was built in the early 2000s, and used to print the New York Times in Ann Arbor, Michigan. A second press, expected to come online this summer, will give the new company, Northwest Offset Printing, a way to print magazine-quality products. Read more in this Spokesman-Review article.
KELLOGG, Idaho —The Silver Valley Community WIFI CO-OP has recently launched to provide community Wi-Fi and free internet connections to Kellogg, Wallace, Pinehurst and Cataldo for residents to do remote learning, apply for essential services, pay bills, and perform other essential tasks. See more at https://www.svwifi.org/home.
SPOKANE VALLEY, Wash. — Spokane-based GL8 Hospitality LLC is breaking ground this week on a Tru by Hilton property in Spokane Valley, marking the brand's first in the state. The 43,000-square-foot, four-story building will be at 13509 E. Mansfield Ave., east of CenterPlace Regional Event Center. The hotel, which will have 92 guest rooms, is expected to open in November 2020. See the full story here.
LEWISTON, Idaho – The Port of Lewiston welcomes Tsceminicum Bottling Company as its newest tenant. The full-service beverage and bottling factory produces Artesian Fusion Brand products in Aluminum, 500ml PET and PHA fully biodegradable plastic bottles, using water directly from their own Artesian well located at their factory, providing nutrient rich minerals from a deep and ancient aquifer. The bottling factory located on Colonel Wright Way will create eight full time and two part time jobs. Artesian Fusion brand products will be available in regional grocery stores and distributed through Idaho. More on Artesian Fusion here.
SPOKANE, Wash. — Palo Alto, California-based electric car manufacturer Tesla Inc. has established a service center in East Spokane.  The company is planning to install 10 more superchargers in Washington, according to its website.  Electric vehicles have grown in popularity in Washington in recent years, with over 42,500 plug-in electric vehicles registered in the state as of December 2018, according to the Washington state Department of Licensing. Over 810 of those were registered in Spokane County. Read more here.
MULLAN, Idaho — Lucky Friday mine, located near Mullan, produced 568,537 ounces of silver in the second quarter of 2020 and expects to reach full production by year-end. Lucky Friday is owned and operate by Coeur d'Alene-based Hecla Mining Co, and is the closest mine to Spokane. A Canadian company is a new investor in Hecla. Hecla Mining Co. has silver mines in Idaho, Alaska, and Mexico, as well as gold mines in Nevada and Quebec. Read the full article in the Journal of Business.
SPOKANE VALLEY, Wash. — Etailz has secured $25 million in debt financing to develop new products, expand inventory and grow retail partnerships. The new round of financing will specifically allow the Spokane Valley-based company – which partners with third-party sellers to grow their brands on Amazon, eBay and Walmart – to improve its proprietary software that discovers product trends, identifies new distributors and optimizes price positioning decisions. Etailz was founded in 2008 by Gonzaga University graduate Josh Neblett, his wife, Sarah, and angel investor Tom Simpson. Trans World Entertainment, a publicly traded company, acquired etailz in 2016 for $75 million. Etailz relocated to its 40,000-square-foot Spokane Valley headquarters in 2018. Read more here.
************************
Inland Northwest Economic Alliance (INEA) is a consortium of fourteen economic development agencies representing fifteen counties in the North Idaho/Eastern Washington region. The collaborative effort is aimed at building economic growth through enhancing the brand recognition of the Inland Northwest and its communities and showcasing its business value.  To learn more, visit www.inlandnorthwestregion.com.