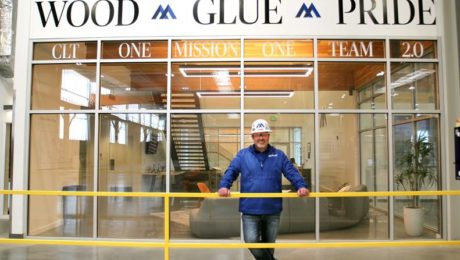 Less than a year after buying shuttered Katerra plant, manufacturer looks to increase production
Less than a year after buying the shuttered Katerra plant in Spokane Valley, Mercer Mass Timber LLC plans to invest $50 million in capital projects at the cross-laminated timber factory over the next two years.
The timber-products company has hired 80% of previous Katerra employees at the site since opening last fall. Starting in July, the plant, which currently has 50 employees, will hire roughly 30 additional people to run a second shift, says Jason Herman, plant manager for Mercer Mass Timber.
Envisioned capital projects include expanding the facility, adding new equipment lines, and the addition of a new product line, including glue-laminated structural components, or "glulam."
Mercer's main product, cross-laminated timber, or CLT, consists of several layers of kiln-dried lumber boards that are stacked in alternating directions, bonded with structural adhesives, and pressed to form a solid, straight, rectangular panel. Those wood panels are then cut to size and include door and window openings.
Glulam is constructed with all wood layers oriented in the same direction and is ideally used as structural support such as columns and beams.
About two-thirds of a mass timber building is made up of CLT and one-third is glulam, explains Herman. The facility is currently under the process of being qualified for glulam, with production most likely starting sometime in the summer.
"We're ramping up right now," says Herman. "With Mercer, we want to add glulam because it's what mass timber needs."
Mercer Mass Timber LLC is a subsidiary of the Vancouver, British Columbia-based Mercer International Inc., a global producer of market pulp and solid wood products with mills in Canada, Germany, and Australia.
Established in 1968, Mercer has over 50 years of experience operating in wood manufacturing.
The Spokane Valley CLT plant, located at 19202 E. Garland, is the company's first factory in the U.S. and its first foray into the mass timber industry.
Mercer acquired the 253,000-square-foot facility—one of the largest CLT production facilities in North America—last summer for $50 million from Katerra Inc., which filed for bankruptcy in June and laid off 63 employees in Spokane Valley.
"We're really excited that this landed in the right place," says Todd Beyreuther, director of product for Mercer Mass Timber. "It would have been sad to see it go down."
Beyreuther and Herman both were involved in the original planning and launch of the facility under Katerra, which began production in 2018. In total, the facility cost $180 million to build, says Herman.
The CLT manufacturing facility is on 37 acres of land at 19202 E. Garland, in northeast Spokane Valley.
When Mercer acquired the plant last August, the company stated in a press release that the plant represents 30% of the current North American mass timber manufacturing capacity and has a capacity to supply about 13 million square feet of five-ply panels, or about 140,000 cubic meters of yearly production.
Herman says that the plant is focused on getting into full production, and a second shift is necessary to do so.
While Katerra sought to be a one-stop-shop CLT company that included building design, manufacturing, and on-site construction, Herman says that Mercer is just focused on manufacturing.
"It's not fully integrated from design to manufacturing to construction," says Herman. "What's different is we are a standalone manufacturing plant."
The plant receives daily requests for product information and sends out 20 to 30 quotes a week, he says. It's currently working on five projects from across the country.
Projects are made to customer specifications, says Beyreuther. Mercer works with architects, engineers, and designers to integrate wiring and plumbing systems for each project design. The company has also hired a lead from England, Nick Milestone, who, along with his team, will work with architects and engineers as they construct the buildings.
Herman declines to share annual revenue projections.
He says that lumber makes up 75% of product costs. He adds that demand is growing for mass timber, not just for buildings, but also homes, bridges, barges, and other types of structures.
In the U.S., 1,384 multifamily, commercial, or institutional mass timber projects had been built or were in design as of March, according to WoodWorks, a Washington D.C. organization that provides free project support and education resources for wood-frame and mass timber buildings and projects.
Beyreuther says that access to timber in Eastern Washington, Idaho, Montana, and British Columbia is one factor in the original decision to locate the plant in the Spokane area.
Another factor is tied to the plant's continuing partnership with Washington State University and its Composite Materials and Engineering Center, where Beyreuther was a researcher when he was approached by investors from Katerra, in 2016, about starting a mass timber facility.
CMEC is an accredited lab where Mercer keeps equipment. Mercer's teams are in constant collaboration with the experts at CMEC working on product prototypes, says Beyreuther.
"All the mass timber experts are here, that's our role. It's good to be under a good parent company," he says.